Dealing With Complaints and Reviews for SMB Restaurants
Key advantages
Humanlike ready-made responses

First-in-class complaint resolving

X80 customer engagement rate
Results and timeframes
+ 1 star per quarter

Up to 64% return customers within 6 months
Payment
Pay bills

Wire transfer

Credit card
Success stories
Fable

House of Pizza

Marmelad
---
Our brand new solution helps businesses grow revenue by up to 30% through increased ratings and retention rates. At the same time, the tool frees the restaurant owner from managing reviews manually.
A-to-Z online review management has already helped a Californian restaurant, House of Pizza, to increase revenue by 23% in six months with minimum effort. The restaurant delegated the task to Reputation America: since March 2021, we have been responding to reviews, handling complaints, and generating new review streams for them. By now, we have achieved the following results:
Average rating increased from 3.7 to 4.4 stars 

Rate of returning visitors increased from 13% to 47%

Rate of negative reviews reduced from 23% to 8%
How did we do it? With the help of AI that brings creativity and innovation, high-level automation, and quick response times.
A successful restaurant is one that delivers a great experience to each guest before, during, and after their visit. Today, customer care can be expressed online, with reviews being the top priority. However, handling customer feedback becomes a real challenge if you do it manually. Not to mention, dealing with negative comments can bring a lot of frustration to the restaurant owner and management.
Due to these and many other reasons, most restaurateurs stopped dealing with online reviews despite the fact that
94%
of customers choose where to dine based on online feedback
. Not only is there not enough time to complete this task but the owners of SMB restaurants are at their wits' end trying to come up with a new response for each positive review and stay calm when handling bad ones.
But things have changed thanks to our AI tool. Reputation America gets the job done: it is affordable and requires no extra work on your part.
How to Handle Review Management?
The secret of reviews is that readers don't remember the facts but the tone. If it's predominantly negative, you are doomed. To convert a negative sentiment into a positive one, you merely need to reply. Such a method is effective in the majority of cases, allowing you to improve your reputation and attract more clients.
However, small and medium businesses can't afford to hire a PR manager who will surf every review website and answer every client. Leaving the financial point aside, hiring a freelancer or an employee won't be effective because of:
    Cookie-cutter answers
    Lack of focus
    Delayed reaction
    Inability to deal with disgruntled customers.
Usually, the owners themselves tackle the task. This, however, is 3x as expensive as the previous solution, as the owner has far too many on the agenda and only 24 hours per day. Therefore, the replies aren't custom, and the owner is overloaded.
Some believe that buying a review subscription is reasonable. In reality, it's not; the platform can only attract reviews, not manage them. And, of course, it can never generate custom-tailored responses for the sake of a personal touch.
Automated, Timely, Custom Replies
Reputation America harnessed the power of Artificial Intelligence and developed an AI-based system that can respond to reviews, deal with complaints, and attract new reviews. For $49 per month, we will:
Monitor the reviews. With the help of AI, we can catch new reviews immediately either via your dashboard or our own platform to ensure that all the opinions are taken into consideration, managed, and responded timely.
Generate and publish replies. Thanks to the deep analysis of the review's content and its author's intent, AI creates replies options that resonate with any person. It keeps flexible to add any business needs such as promotions or celebrations with an enormous level of creativity.
Resolve complaints. Relying on our 10-years experience in conflict management, our algorithms can turn a bad review into a good one. We will guide you to generate custom professional replies timely.
As a result, you will get an army of engaged customers without extra efforts on your side.
78% of consumers
saying that hearing from management about their reviews makes them believe the business cares more about them.

With Reputation America, you'll improve your overall image, attracting more customers. But that's not all! You'll retain more clients and save on attracting new ones, which is much more expensive. Moreover, with the reliable algorithms and our extensive expertise at your service, you can focus on revenue-generating processes, being sure that your review management is under professional control.
Checklist: Do You Have to Respond to Reviews?
1. Choose three local competitors and check their profiles on Google Maps, Yelp, Tripadvisor, Yahoo, Foursquare, and OpenTable (add other platforms if needed).
2. Rate how they react to online reviews from 0 to 10:
Do they respond to reviews? If the answer is yes, this may be the reason why they have more customers than you.

Do they respond to all feedback or only negative one? The former is a useful strategy, which helps to build rapport with every reviewer, regardless of what kind of experience they had.

Are the responses generic or customized? Customized replies offer more value since they show the level of care for every single guest.

Do the companies aim to solve the client's problem? If yes, this approach demonstrates that they are eager to provide top-notch service and, thus, helps to build trust.
3.
Investigate what else your target audience looks for and analyze how other companies within your clients' interests deal with online reviews.
For example, in Google Maps, it will look like this:

Here is how the process will look on TripAdvisor:
The platform ranks hotels, restaurants, and attractions by balancing user reviews with how close they are to a specific location.
Investigate these suggestions to get a better idea of what kind of approach your customers expect and appreciate. If you are falling behind the competition that responds to reviews quickly and in a personalized manner, it's a sign to automate your complaints and review management system. Show your customers that you care about what they think and what kind of service they get.
How Do We Handle Complaints?
Even dissatisfied customers will keep doing business with you if you manage to react correctly. In fact, according to the
service recovery paradox
, a complaint is an opportunity that can actually result in the customers having a more positive view of your business after a complaint is resolved than before they ever had a problem. In 78% of cases, the author will even update the review.
To reach such an outcome, we have developed a three-step process to handlings complaints:
Prospect assessment. We begin with the analysis: have you failed to meet the customer's expectations, were they reasonable, was the experience real, how did the customer react to negotiations, what is the LTV (Lifetime Value), and how did you resolve previous complaints? All these allow us to predict the outcome and generate a Conflict Resolution Strategy.
Public reputation recovery. We rely on the PhD W. Timothy Coombs Crisis Response Strategies to show the audience and customer that you do care about each and every client, even if the conflict is solved privately. By the way, public response helps to solve the problem one-to-one.
Private resolution. What is better: to apologise or make a refund, let the author decide to keep the review or ask to update or remove it? Don't worry: you won't have to decide alone. We will guide you through every step to help you stay in control of the conversation and get the best possible outcome.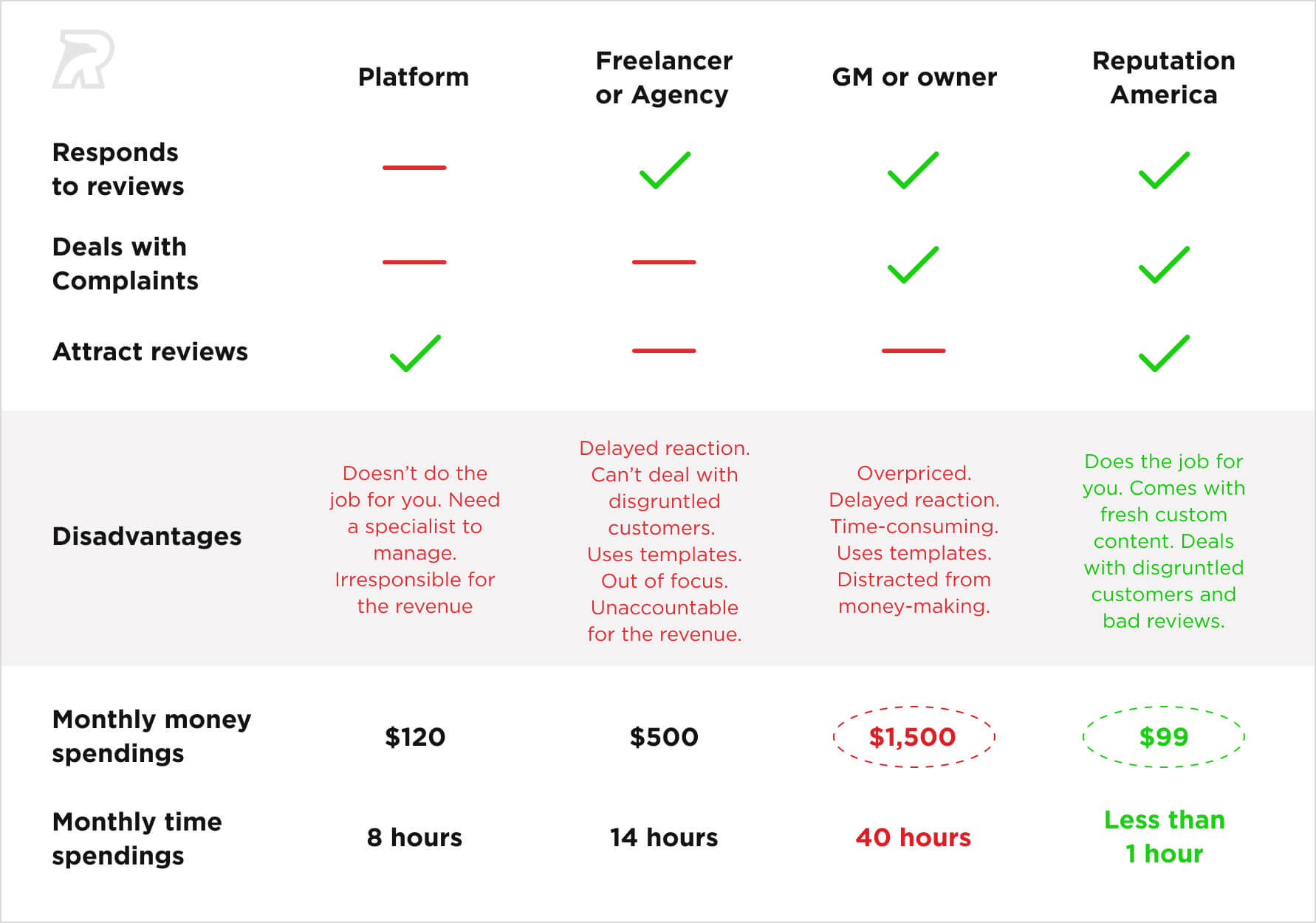 Why Entrust Your Customer Relation Management to Reputation America?
We at Reputation America have spent a decade figuring out the secret of cultivating a brilliant online image. Our experience shows that negativity isn't fatal if you know how to deal with it. By entrusting your online image to us and your online reviews to our proprietary AI-based algorithms you can be sure that:
Your Data Is Safe. Information security is among our top priorities; that's why our AI-based software is developed with a focus on advanced security. The provided access to your data is constantly guarded.
Your Image Is Improving. You may solve complex business problems, travel, or rest, while we will make sure your online reputation is shining. Based on our deep expertise in conflict management, we developed a reliable algorithm that transforms negativity into positivity.
Your Brand Ambassadors Keep Appearing. We developed more than an algorithm. The team embedded all our psychology-related knowledge into the platform, letting the system connect with your audience, build a rapport, and drive new positive reviews.