Doctor Reputation Management: A Comprehensive Guide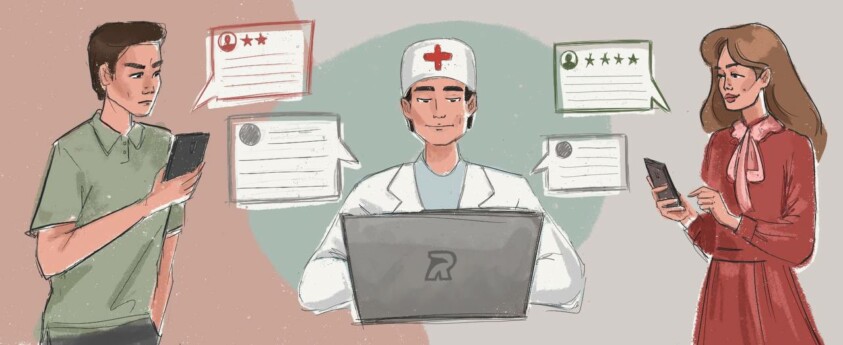 Consumers have shifted to the digital realm, and the healthcare industry can't ignore the fact.
The trend is evident in the post-pandemic era as never before. Since patients prefer telehealth services 38x more times now compared to before the pandemic, it's hardly surprising that they are searching for doctors online as well.
That's why doctors should care about their online image more than ever before. That's what we will elaborate on in this article.
What do consumers think about you?
It's free, confidential, and without obligation
Why Online Reputation Management for Doctors Matters
Not all professionals realize the importance of their online reputation to their income. The thing is that the former is directly proportional to the latter, meaning the better your image is, the more money you gain. The hidden part of this equation is the consumer who is willing to visit a doctor who only has flawless reviews and positive online mentions. After all, they are choosing a person to trust with their life.
Let's break down physician reputation management into two categories to take a closer look at:
1. Overall Sentiment
Your journey into doctor reputation management starts with the preferred way for patients to find healthcare providers online – Search. Here are some valuable insights:
80 percent of patients search for healthcare services online. This applies to both younger generations and those aged 60 and up.
63 percent of users choose a provider with a strong online presence.
81 percent of patients will read reviews about doctors, even after referral.
To find the right healthcare provider, patients predominantly conduct an online search: they study the published information on a doctor's website and posted reviews. However, they will probably compare you to your competitors and choose the one with better online presence, which emphasizes the importance of medical practice reputation management.
It includes not only your website, which should be flawless. You should also look at online sentiment or what information search results display when someone Googles your name, brand name, etc.
If all the content is either positive or neutral, you have nothing to worry about. If, however, there is negativity – scandal details, incriminating photos, articles, videos, etc. – your competitors will win this round. Little to no patients will choose a doctor or medical center whose professional image is undermined with harmful information.
2. Online Reviews
Online reviews are an indispensable part of physician online reputation management, and the NRC Market Insights study explains why:
Online image is far more important in healthcare than in any other industry.
Almost 60% of patients claim to choose a doctor based on positive online reviews.
Approximately the same number of respondents (60.8%) avoid healthcare specialists with negative reviews.
It's only logical that in such a sensitive issue as personal well-being and health, consumers rely on other people's experiences. Therefore, they look for real opinions online to try to lower the informational noise and narrow down the list of doctors to visit.
For a healthcare professional, it's a chance to gain a competitive edge and finally get through to the top. Those who fail in review management can count on a significant decrease in the number of appointments.
How to Improve a Physician's Online Reputation?
Suppose you carry out an investigation as the first step of your doctor reputation management and find out a lot of negativity to deal with. Here are some tactics to undertake that minimize your reputational risks:
1. Harmful Information
Here is what you can do to get rid of unwanted data online:
Delete. The best way to eliminate any trail of negativity is to remove it at its roots. The best solution is to reach out to the author, editor, site owner, or hosting provider and negotiate the removal.
Deindex. The approach implies deleting the link to a source with the harmful information from organic search results, meaning users won't see it unless they have a direct link.
Rectify. If some content is okay with you and some – not, you can rectify the parts you don't want to be available for the public. The best way here is the same as for removal – negotiations.
2. Negative Reviews
Taking care of negative reviews is different, as you don't have as many options. You can try removing them, but it's a difficult way that may not drive as many benefits as a simple reply. In fact, replying is an effective method to mitigate negativity. This way, you are showing your existing and potential patients that you do care about their comfort and are constantly improving the provided service to satisfy even the most exquisite demands.
However, not every reply is a good one. You should put yourself in the reviewer's shoes, recognize the problem, and provide proof that it's tackled. Never argue or get aggressive, remain polite, and show respect.
Reputational Self-Treatment Is as Dangerous as the Medical Kind
While you can always try to self-cure and deal with harmful information and negative reviews yourself, acknowledge the risks before. If you fail to reach an agreement with an author or keep your cool while replying to painful feedback, you risk escalating the situation even more. In this case, you are likely to find even more harmful content, increasing your reputational risks significantly.
Like when a patient visits a doctor to get the right diagnosis and prescription, you should turn to reputational experts who offer reputation management for medical practices. Reputation America can easily carry out screening to detect the problematic bits and prescribe the right medicine.
Being on the market for 10+ years, we can easily switch tactics to achieve the objective and improve your online image. Our ultimate goal is to reduce the amount of effort on your side and, at the same time, ensure the deliverables meet your expectations. That's why we do all the work on our side and provide a lifetime guarantee. It means that if the harmful information reappears, we will delete it for free.
Start earning more by harnessing the power of online reputation management for doctors. While you are treating your patients, we will treat your reputation!
Still have questions?
It's free, confidential, and without obligation