Get a Background Check: Why Run It?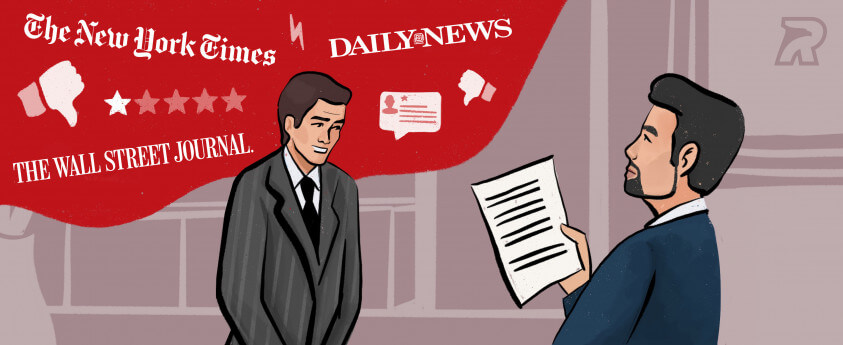 Background check is critical for institutions of all levels and in any industry.
Such a check is a significant responsibility. If you still think that the answer to the question "How to get a background check and what is it?" is simple, then it's not the case. Background verification is checking someone's past and personality using publicly available sources of reports and data.

The background check is based on your needs. Let's take a look at the example. If your company needs to be informed about the candidate's criminal history, the background check will add the candidate's criminal record. Then, you can take this information into account when deciding whether to hire the candidate.
We will help you to improve your personal reputation
It's free, confidential, and without obligation
Get a background check: other reasons for that
If you wish to delete a negative background about you or your company, understand that it's difficult. Let's take a look at the main reasons for that.
Prevent surprises
Knowing that when your data is checked, unwanted information can come to light, it is important to legally clean it from the Internet. This will prevent undesirable information coming up that your employer or landlord should not be aware of.
Impress potential employers
Another reason to get a background check is to impress potential employers. By adding a background check to your resume, you increase the chances of being hired for your desired position.
Correct mistakes
Before someone else checks your background and sees your mistakes, you can always remove undesirable information and fix your reputation.
What to check?
According to US law, all information that can be found about you belongs to people, so anyone can view it. If you need to correct any inaccuracies, you can do it legally. By requesting to check your background, you collect data that includes:
your age and date of birth
your marital status, and divorce details
crimes committed data
arrests
fines
court decisions
civil records
information from social networks
information about relatives
forums, etc.
If we are talking about public records, then first of all we mean publicly available information on civil matters. This data contains information about traffic fines, vital records, information about your civil status (divorce and marriage), lawsuits, etc. When we are interested in a background check, we want to find out data on a person's criminal record, whether this person has committed a crime and whether was arrested, what information about him is on the network.
How to get an official background check?
It is so hard to check your background information if you make some effort. By law, we consider your information as publicly available. Any person can find what interests him in the public domain. In some jurisdictions, the search process is simplified. Such offices have specialized web portals. Using these portals, you can get all the information you need. You just need to enter your name and identification number.
Passing a background check myself or use an Internet service provider? We are supporters of everything that you can get for free. It happens that you need to find information for just one question. Then you can try to do it yourself. But more often, we turn to ISPs because they spend a fortune processing all the data on the Internet. It can take months, years, and you may not complete this task at all. Professional help saves you time and effort.
You can use free services for passing a background check yourself. If you're wondering about how to get an official background check yourself, then you should start by checking state-by-state guides on official websites. Bankruptcy records are another option you can also review by visiting the official Pacer.gov website and more.
If you think about the question "Should I get a background check myself?", we can say "Definitely yes". In any situation, it is useful to check the information that your employer can get, and that can prevent you from getting a job, attract investors, partners, or interfere with business development. You can also check your outdated data and correct it somehow, or even delete it permanently if there is a need.
Check your background and delete it legally
Many large companies whose purpose is to get money by providing information about your criminal record, how you positioned yourself in your previous job, and so on, can share that data. Even if your criminal record was canceled or you retrained and started to work better, these companies will still provide inaccurate information about you. And even if your partners, employers, or landlords say they don't need this information, they will still use it to make a decision.
In such cases, the best option would be to remove your criminal record or other personal information from popular web resources that employers used to verify your data. This service is necessary if you have negative any other unwanted information that bothers you or creates difficulties to pass any checks.
Contact Reputation America to correct information and passing a background check
Our specialists work within the law – no threats and hacks. For example, if we are talking about the removal of information from government sources, and you need to delete information about an unpaid fine (but you paid it), then you can go to court and prove your case.
But the trial may not play well, and not only will you not be able to delete the needed information, but you will also lose money. That is why there are companies like ours. We are engaged in the removal of information from the Internet through negotiations. Our team includes negotiators, conflict experts, removal engineers, psychologists, and lawyers. They know the algorithms of search engines and many platforms and therefore analyze the task complexly, find the negative information and remove it irrevocably and for life.
After working with us, if you check your background again, you will see that the information was corrected, and it is removed without publicity, hype, without going to court, and legally.
Still have questions?
It's free, confidential, and without obligation