How to Respond to Negative Reviews And Benefit From It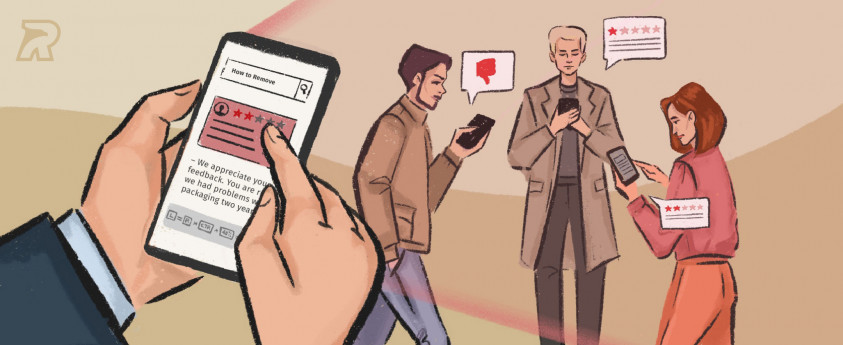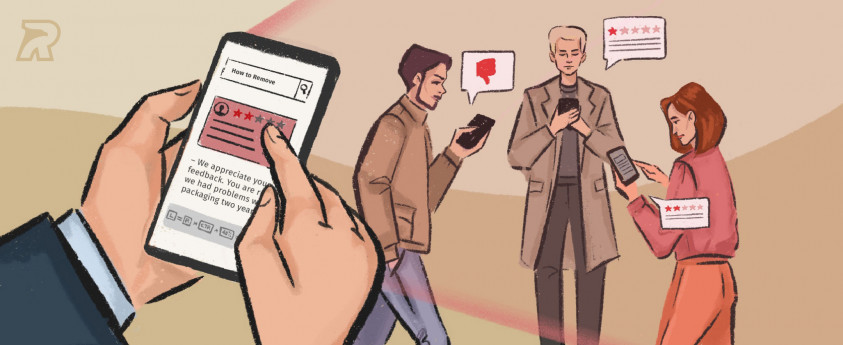 When it comes to getting unpleasant reviews about businesses, services, or products, companies act differently. Instead of responding to negative feedback, some of them choose to delete reviews or ignore them.
For example, an airline company United Airlines assumed that people would forget the incident with the famous musician Dave Carrols'. The company refused to compensate him for the broken guitar. Around the time of the incident, there even was a viral hashtag #UnitedBreaksGuitars. While everything eventually cooled down, the hashtag became trendy again when footage of a passenger forcibly dragged off a flight appeared on the web.
The situation could have been way different if the company considered responding to bad reviews. Such an approach shows that you care, take every opinion into account, and try to improve your service to meet customers' needs.
At Reputation America, we have vast experience in the field: our experts have already managed around 1,700 bad review references. By analyzing a person's pain points and treating them with understanding and appreciation, we can respond to negative reviews and even negotiate their removal: according to our experience, such an approach guarantees success in 70% of cases.
What do clients and partners think about you?
It's free, confidential, and without obligation
It is often a tricky task to make a proper response. But learning exactly how to respond to negative reviews will help you eliminate customers' frustration and build a better impression. The ultimate outcome can be winning the customer over again and gaining their respect and loyalty back. That is why every detail in your response matters.
The Do's and Don'ts of Negative Review Responses
Negative reviews are always unexpected, but they allow you to learn your weak points. If unprepared, company representatives can act out of emotion or even be rude when responding to negative feedback. Both are unacceptable in terms of business orientation.
So, we gathered a few valuable tips on how to respond to negative Yelp reviews as well as to reviews posted on other similar services to improve your overall image.
Always Do
Be prepared to receive a negative review, do not take it personally. Instead, act professionally to determine and eliminate a problem. Monitor both negative and positive feedback to be aware of your strong and weak points.
Practice responding to bad reviews without exceptions and take care of every opinion, strengthen your reply with facts.
Remember that in certain cases legal implications of the response must be considered. For instance, the HIPAA law is applicable in the medical sphere, the Los Angeles Ethics Opinion No. 525 or North Carolina Formal Ethics Opinion No. 1 need to be considered in the legal field.
Learn about the four winning strategies on how to respond to a bad review. We listed them below with negative review response examples.
Fixed Problem
You admit that such a problem existed a while ago and was already fixed.
Example of negative review and reply: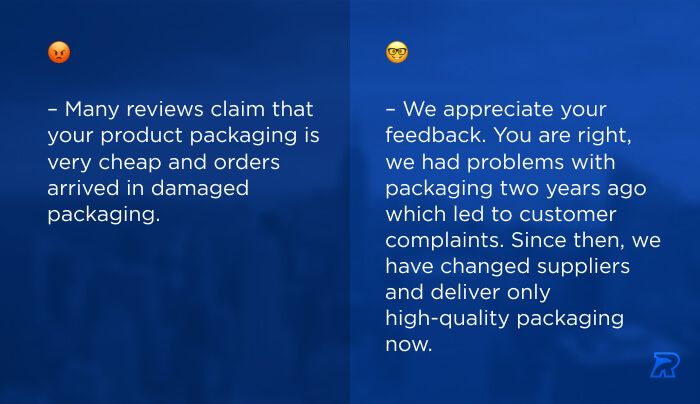 Exaggerated Problem
You learn the story behind the review and what caused such an emotional reaction, describing a story of your own in response.
Example of negative review and reply: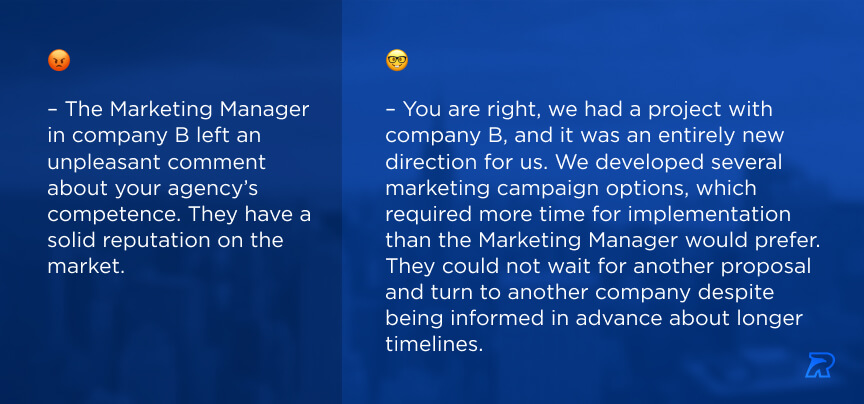 Fake Review
You confirm that the review is fake, and you failed to contact the author or pretend that you heard about the problem for the first time and are surprised by such a review. Of course, you should strengthen your response with facts.
Example of negative review and reply: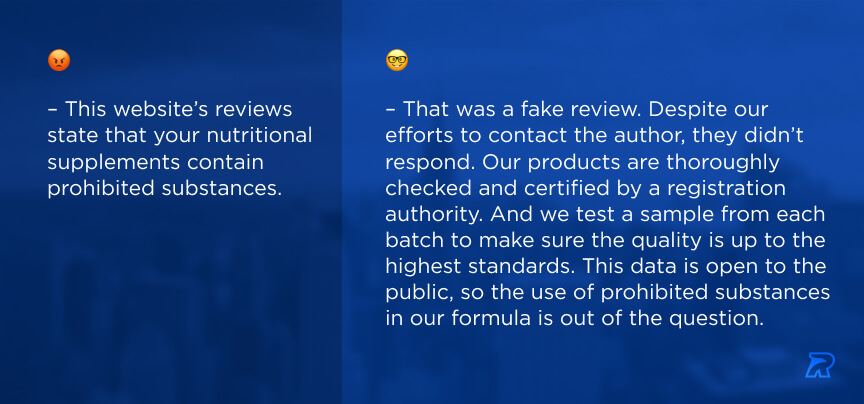 Other Strengths
You confirm that such a problem exists and explain that you focus on other strengths that compensate for the weak point.
Example of negative review and reply: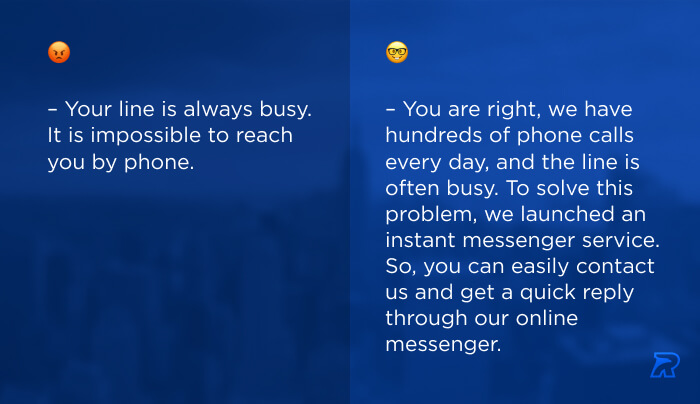 Don't Ever
Knowing how to respond to negative reviews is good, but it's also important to know how not to respond. It is as crucial to master as anything else as you learn how to respond to a bad review. So, if you wish to solve a problem and reach an agreement with a customer, remember the following.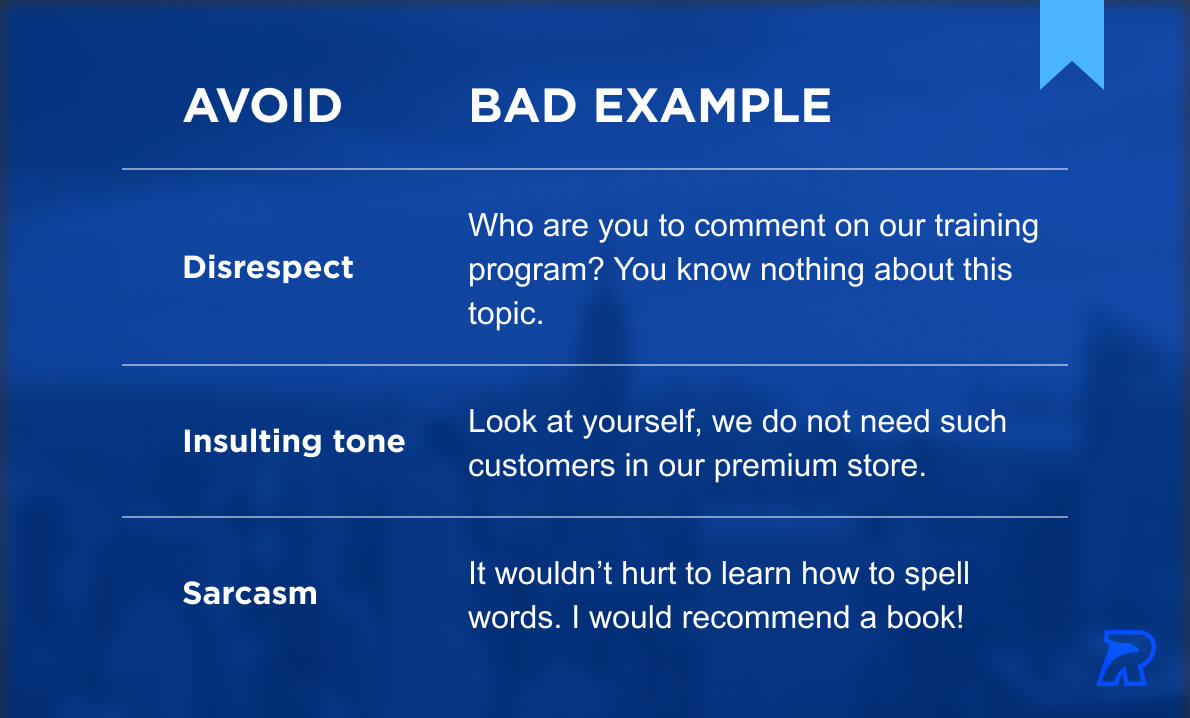 A Perfect Negative Review Response Scheme for Any Case
To help you learn how to respond to a negative review quickly and easily, we came up with simple guidelines. These 7 steps will help you address your customers' frustrations and needs and allow you to establish contact with them.
Greeting
Gratitude
Apology
Comment on the specific problem
Request for contact
Company's advantages
Conclusion
So, the question of how to respond to negative Yelp reviews boils down to the structure of your review. Below you will find some negative review response examples that are written based on the formula given above.
Negative Review Response Examples
Miranda's negative review:
I visited your SPA for the first time. The administrator was nice, and I really enjoyed the room, the procedure, and the products used. But the service was bad. Specialist M took many phone calls along the way, and I was unable to relax. Even after I expressed my concern, she did not put the phone away. It was frustrating given the prices of the service. I doubt I will visit it again.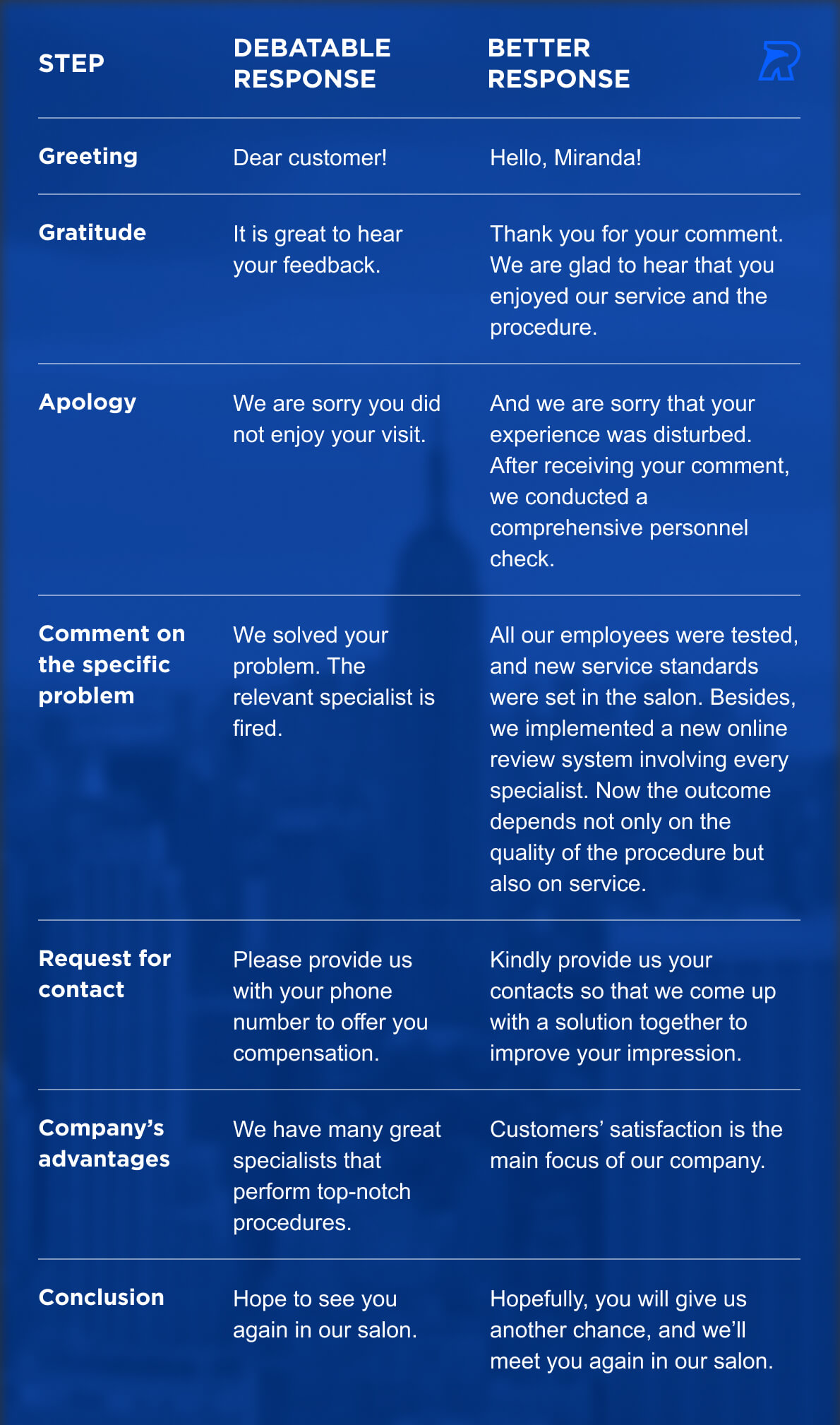 Final Thoughts
While encountering negative reviews that hinder your reputation may be devastating, with the right strategy and approach, you can successfully respond to them and even improve your online image. If, however, you struggle to find the words, you can always rely on professional help from Reputation America. We know what to say to turn the bad into good or even negotiate the review removal.