How To Build a Good Reputation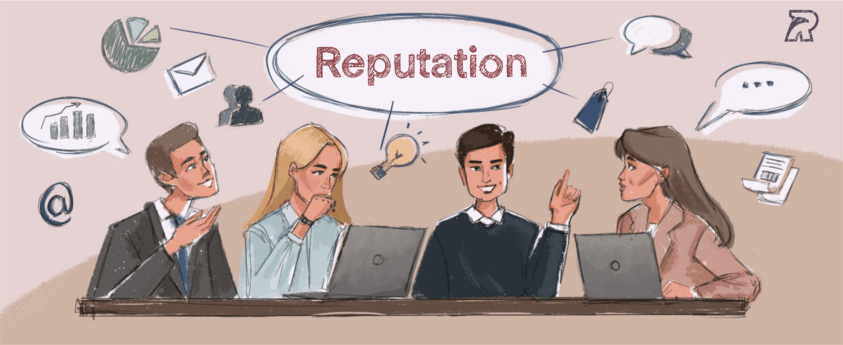 People frequently overlook the value of having a good reputation until things deteriorate. However, it's important for individuals and businesses alike, especially if they aim to expand beyond their existing reach.
A company's reputation is a valuable asset that should not be treated lightly. Building a positive online image requires a deliberate effort that will ultimately determine the success of your company. We will explain why you need to build a positive reputation and how to maintain it.
What do consumers think about you?
It's free, confidential, and without obligation
Benefits Of Having a Positive Business Reputation
Approximately 20% of new businesses fail within their first two years, 45% in the first five years, and 65% in the first 10 years, according to the U.S. Bureau of Labor Statistics. With these statistics, one would wonder about the causes of this increasing business failure. While there are a number of reasons associated with this failure, the major reason is the lack of a positive reputation.
Companies with good reputations have a tendency to last longer than companies that are struggling to build a good name for themselves. The BLS statistics also state that only 25% of new businesses make it to 15 years. Some examples of companies that have a positive business reputation and have passed the test of time include:
The Walt Disney Company: In the entertainment industry, Disney comes first with top-notch, family-friendly entertainment. The Marvel and Star Wars movie producer has garnered a positive business reputation since its inception and is one of the top companies with a good reputation.
Samsung: Known for producing electronics and smart appliances, Samsung is another reputable company that has been in business for a long time. The innovative tech company has retained a good position because of its many offers and benefits to customers, thereby building its reputation.
Procter and Gamble: Procter and Gamble, sometimes referred to as P&G, is famous for its household brands, Luvs, Always, Cascade, Crest, Tide, Gillette, and Downy to name a few. Procter and Gamble, along with its sub-brands, have a good reputation score in the industry and have been in business for a long time.
However, some other benefits of having a good reputation in business include:
Expansion of Customer Base: Having a good reputation helps businesses to reach and attract more customers. With online businesses becoming the order of the day, customers tend to read reviews about businesses first before patronizing them, and a company with a positive reputation would gain more customers.
Customer trust and loyalty: It is not enough to have customers; to stay in business for a long time, you need a strong and loyal customer base. This is what the reputable companies listed above have.
Better market value: A positive business reputation increases your market value. The more positive a business's reputation is, the more its market value rises.
Business growth: As discussed above, businesses crumble when they lack a good reputation. To experience growth and stay in business, it is important to maintain good reputations.
All this results in one tangible business effect – higher revenue. Did you know that every one-star increase of your Yelp rating can increase your gain by 5-9 percent?
How To Build a Good Reputation in Business Online
How to build a brand reputation that will lead you to the top? Since people's perception of a company is largely based on the data available online, a good business reputation is shaped by your virtual image. It includes overall sentiment in search results, social media, and review sites. Here are four valuable tips on how to build a good reputation:
Always monitor what people are saying about you and your business: You should always check what people think about your business, employees, services, or products and make improvements based on what you find out. Words travel fast, but bad news travels faster. That's why you need to be the first one to spot even potentially harmful information, let alone negative content. Reputable businesses are known for solving business issues before customers start worrying.
Put customers first: Customers are to businesses as oxygen is to survival. No business functions properly without them. This is why you should strive to put your clients first if you want to build a good reputation. You can achieve this by responding to both negative and positive reviews about your business online to show that you care.
Take responsibilities always: Businesses run into problems all the time, and this is inevitable, but the way the business handles the issues is what builds its reputation. If the internet is full of negative information and it's not a fake accusation, take responsibility and share how you solve the problem.
Don't forget about your employees: Any company's employees have the power to influence how far the company will go. They aren't only the drivers of growth but also the first brand ambassadors. Any corporate scandal leaked to the web is a catastrophe. Even the giants like Google can do little to nothing to stop the wave of negativity because of breaches of privacy and harassment incidents.
How to Keep a Good Reputation
Building a good reputation isn't a sprint but a marathon. You can never stop checking the state of your online image and dealing with harmful information by:
Removing. The best way to prevent the consequences of negative content is to delete it forever from the source. For this, it's best to contact the author, editor, site admin, or hosting provider and negotiate the removal.
Deindexing. If removal isn't possible, you can eliminate the harmful source from search engines. This way, only users with the direct link will be able to access the data.
Responding. By replying to negative content, for example, reviews, you can transform it into a positive one. Our proprietary solution is an AI-based system that can generate custom replies to critics without any work on the client's side.
While it's always possible to do all these yourself, a lack of experience may lead to a waste of time without any result, or worse, an escalation of the scandal or a ban from Google. These will do no good for digital reputation. That's why turning to reputational experts is the best solution to improve your online reputation safely and legally.
With 10+ years of hands-on experience and a powerful team of reputational experts, we can successfully remove almost any link from any site via negotiations. The way to a good reputation may not be easy. But it will definitely be easier with Reputation America by your side. Let's improve your online image together!
Correct reputation mistakes
It's free, confidential, and without obligation