How to Keep your Information Private Online: Practical Guidance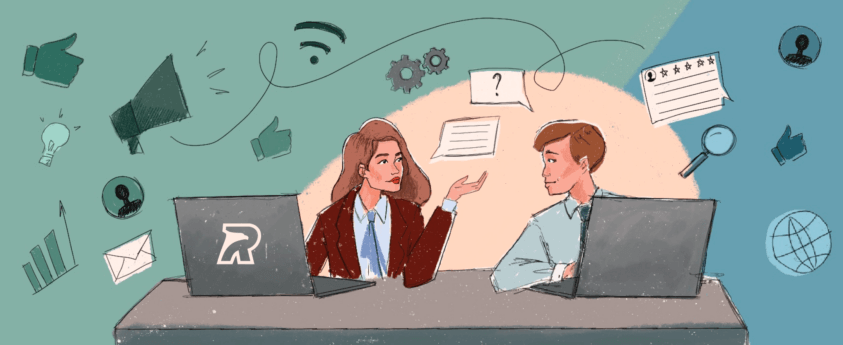 Today, most of our daily activities can be handled online, such as shopping, banking, investing, and work. There's every probability that you aren't safe when browsing, considering the amount of information that could be monitored about your life.
Estimates show that more than 4 billion people use the internet at the same time as you do; therefore, your privacy and security aren't guaranteed. Although it is great to live in this Information Age, it has its darker aspects, and if you regularly browse, you have to make your security a priority. If you don't know how to keep your information private online, make these simple changes.
We will help to protect your reputation in your hour of need
It's free, confidential, and without obligation
How to Keep your Personal Information Safe Online
You can protect your accounts by using a password manager. Even though it seems overwhelming to set up a password manager, as soon as you install it, you will be safer using the Internet. Password managers keep your passwords safe; and if you have weak or repeated ones, it'll advise you to change them.
Another step you should take is to make enable two-step authentication on your banking and social media accounts. In this authentication, you're required to create a password and provide a personal mobile number. As a second step, the site sends you a shortcode to the mobile number. This code is required before you can gain access to the account.
Limit social media sharing
Hackers and scammers might access your vital information if you're fond of always posting private information online.
View the privacy settings and only post content with close relatives and friends to keep sensitive information private. Additionally, consider going through the phone and accounts of your kids. Ensure they don't overshare.
Try to keep personal information private online. If your hometown, residence, birthday, or any other personal details are available online, ensure you know who is seeing it by going through your privacy settings.
We were looking for a reviewer. We knew that this was a woman living in the United States. We also had an old post with a poor-quality picture. The text was about a dog named R**. We searched for information about dogs with such names and found her social media footprint.
Take caution when clicking links and attachments
To trick people, cybercriminals send emails from reputable organizations such as banks, network providers, tax services, electric and gas companies, and so on. 
Be wary of spelling mistakes, mail messages that appear to be spam, and unexpected messages from friends. If you doubt the authenticity of a message, check before you click it.
Install antivirus software
Another hint on how to keep your information private online  is antivirus software installation. We still have viruses around, even though they aren't as prevalent as they were several years ago. Viruses can cause several problems. It's advisable to install an antivirus on your system, particularly those using a Windows computer. 
Even though it seems convenient, public Wi-Fi doesn't provide much in terms of security. Consequently, anyone on that Wi-Fi network could see your online activities.
When you use public Wi-Fi, avoid logging into your accounts, mostly bank account or providing credit card details. A Wi-Fi network's security relies on those that own the password. Use only secured networks, such as one at home. 
Regular security updates are a huge hassle for users. Nonetheless, security updates are necessary as they contain important security patches to protect your system from newly discovered threats. You run the risk of damaging your system if you do not update it. 
Have another email account
If you wonder how to make your information private online, create a different email address. Since banking requires sensitive information, use just one email address for it. Use a different email address for subscriptions, getting coupons, online games, and so on. Use a different email account to communicate with your family.
Determining if Your Personal Information has been stolen
Along with doing things to protect your personal information, it is vital that you're aware of steps to take if you fall victim to identity theft. Here are other tips on how to keep your information private on the internet.
Monitor your bills: If you don't receive a bill, it could mean that a scammer has changed your billing address.
If you get a bill for goods or services you didn't purchase, it could mean that your information has been compromised.
Look at your bank statement: Illegal withdrawals on your bank statement could signal identity thefts.
Monitor your personal information: Notice if your name, phone number or address comes up on unrecognized accounts and websites; this might indicate identity fraud.
What to do if you become a Victim of Identity Theft
Ensure you know how to keep your personal information safe online and prevent the damage from escalating. Immediately take these steps if you notice a data breach:
What is a good way to keep personal information online is regular passwords update. Regularly creating new passwords is a good idea, especially when a data breach occurs. Create new, stronger, and more secured passwords. Use a password manager to help you remember all your passwords.
Get in touch with the website owner
Alternatively, you can always contact the website's webmaster and request that they remove the content. It is worth reaching out to the website owner if you have an easy way to reach them.
Directly reach out to Google
Addressing Google is a good step if you seek how to keep your personal information safe online. It is possible for Google to remove a website from their search results containing your personal information such as a government identification number or a picture of your handwritten signature. Google can also remove your business name or your first and last name if the offending website is spamming its search results with adult content.
Keep a close eye on your accounts 
When identity theft happens, keep an eye on your financial accounts, such as your bank account and any account you have with the affected organization.
Contact an identity theft protection service
Reputation America can assist you in legally delete any personal information that has been illegally breached. With our expertise, we can remove the content in a short period of time. We know how to keep your personal information safe online and provide legal, discrete, and timely solutions.
Over the past few years, we have removed negative details from more than 2000 websites. We offer lifetime guarantees to all our clients. We will take off the previous negative details from a search engine or website at no additional charge if they appear again. You can correct past mistakes by getting rid of negative information, which would have hindered the development of the present. At Reputation America, we understand the importance of online privacy.
Making your online security a priority will enable you to prevent bad things from happening online. Now you know how to keep your information private online. Secure what you value and inform your loved ones about online threats. Together, we can keep attackers at bay by staying protected.