5 Best Reputation Management Companies to Improve Your Online Image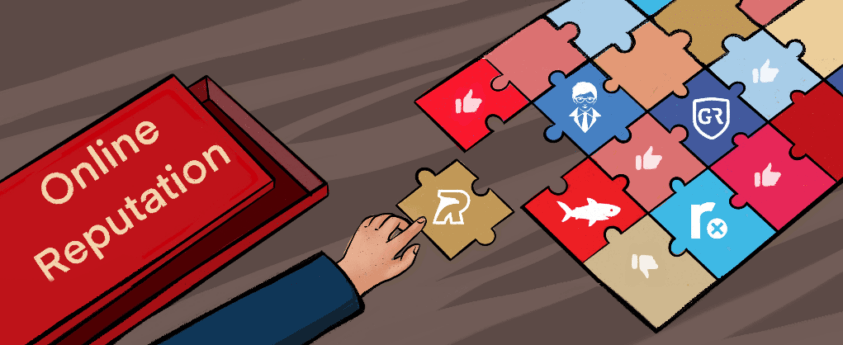 Online information about a business or a person can have a huge impact on success. Negative comments ruin businesses, and sensitive photos posted without consent ruin lives. But the best reputation management companies can help save one's reputation even in situations that seem hopeless.
To help you navigate through the constantly growing ORM (online reputation management) market, we carried out a research and analyzed players in the field in terms of:
Site quality – Content, design, usability, communication tools.
Trust – Negative reviews about the agency, agreement-related issues, payment methods, and the overall impression of whether the company will manage to cope with such a sensitive task.
Offer – The scope of provided services, years of experience, removal alternatives
Service – Company representative's position, engagement in the client's problem, attitude, and expertise, speed of reply, quality of communication.
Presentation – Format and quality of brand presentation, time to receive it.
Conditions – Turn-around time, pricing, guarantees
Within the variety of opportunities, it's up to you to choose the one that suits your needs best.
What do consumers think about you?
It's free, confidential, and without obligation
Top-5 Online Reputation Management Companies
As a result of our own research, we have determined five best reputation management companiesfor you to consider:
NetReputation
NetReputation is an online US reputation management agency with its main office based in Florida. They provide various services of negative information removal and PR/marketing for businesses and individuals. Deleting negative content from the internet is accompanied by various opportunities for the creation and active promotion of positive content. While the company makes an impression as a reliable partner that can handle the task, there are still some negative reviews about it on the web.
You will have to wait for approximately 12 hours to get a reply from a NetReputation specialist, who is likely to ask for your reasons to delete harmful information. The company takes almost the same amount of time to send a branded presentation.
The agreement includes a life-time guarantee on the provided services, which you should pay for once the data is removed.
Featured services:
Content removal services
Social media management
Website SEO optimization
Branding
Removify
Removify is an Australian online reputation company that has offices located in different parts of the world: Melbourne, Hong Kong, Singapore, Central America, London, Thailand, and Dubai. Removify provides professional services of online reputation monitoring and erasing potentially harmful content (especially negative reviews and revenge porn) from the internet. Assistance in creating a positive online image for the brand (or an individual client) is a part of their services as well.
While requiring a partial prepayment, Removify offers a risk-free informational removal with a lifelong guarantee at a comparatively low price. However, you can't know the legal issues as the company doesn't provide an agreement sample unless you decide to seal the deal. To contact a digital strategist (the person who is communicating with clients on behalf of the company), you will have to wait for approximately 12 hours.
Featured services:
Reputation auditing and monitoring
Creating professional Wikipedia pages
Review amplification service, Amplify: a centralized platform that collects feedback from customers (for integration into an e-commerce store)
Guaranteed Removals (AKA Erase.com)
Founded in 2014, Guaranteed Removals has two offices – one in Canada and the other in the US. However, they actively work with clients from the UK, Australia, New Zealand, and other countries as well. In 2021, the company rebranded as erase.com but currently operates under both names.
Content removal is performed in short terms starting from 24 hours, and the payment is accepted only when the task is completed. As the brand name suggests, Guaranteed Removals puts the focus on the legal removal of negative information from the internet. Among other things, the objects for potential removal include the following:
Attack sites
Negative search results
Negative news articles
Unwanted visual media content
Featured services:
Deleting mugshots and criminal records
Deleting private information made public on government websites
Dealing with online defamation and/or slander
Digital Sharks
This reputation management firm specializes in the safe and legal removal of negative information from the internet. In the short term, starting from 24 hours, they delete unwanted information from the internet, guaranteeing full confidentiality for their clients.
Personalized requests for information removal are processed through the system of personal accounts on the company's site to minimize potential human errors. However, clients also can communicate with personal managers whenever needed.
Main features:
Lifetime guarantee on the informational removal (guarantee of no reuploading)
Legal and unique information removal strategy
Payment based only on real results
Convenient personal account system
Reputation America
Reputation America helps businesses and individuals worldwide to deal with the consequences of harmful online information.
Working with a client begins with a process of investigation. This means finding out the negativity, those who stand behind the spread of the harmful content, and determining the safest and most efficient legal methods of minimizing reputational harm.
Reputation America's professionals know how to remove various kinds of potentially harmful content, such as:
Outdated content
Blog posts
Media articles
Mentions on forums
Social media posts
Negative reviews
Photos or videos, etc.
What is more, reputation experts can help you automatically reply to reviews. The service is a blend of 10+ years of hands-on expertise and AI that contributes to the low cost of the efficient service that helps to increase the company's revenue.
Featured services:
Deindexing: excluding unwanted links from search results
Content rectification: updating information that is false or outdated
Dealing with negative reviews or complaints
Harmful information removal
Getting a Right to Response
What Makes Us Better?
While all the agencies offer more or less similar services, it's not the offer diversification but the quality that makes us stand aside:
We guarantee full confidentiality. Your data is safe with us, regardless of the signed NDA.
We provide a lifetime guarantee and will remove the information for free if it appears on the web ever again.
We don't charge you until the job is done. You can forget about upfronts. Pay for the delivered results only.
We use only legal methods to deal with the harmful content without further escalation.
Attention Points for Choosing a Reputation Management Agency
Various surveys show that over 80% of consumers rely on internet reviews when choosing a brand to interact with. However, at some point, getting negative reviews or other kinds of harmful information — be it false or true — is inevitable. Trying to remove or hide those in inappropriate ways can easily cause a backlash, aka the Streisand effect, with far more tremendous consequences. That's a serious reason to look for a reliable reputation management company.
Since removing negative information is a subtle and often risky task, the best reputation management services operate within the domain of current law. Be careful with the removal methods, and remember that strategies like threats or hacking are unacceptable.
Keep in mind, however, that as a client of a reputation management company, you can demand that your information be removed. If the agency is hesitant to provide the services you need and suggests the impossibility of information removal without offering other solutions, it might be a reasonable step to search for another one.
Look carefully through the services you are offered. Remember that some kinds of services, like subscription-based SERM (search engine reputation management, based on constant control of search results), have a risk of making the business dependent on them. However, depending on your situation, it may be a helpful solution as well.
In case you need more than just information removal, pay attention to the methods the company utilizes to recover the client's reputation. For example, positive reviews written and posted in an unprofessional way may be deleted or lead to sanctions, causing the opposite effect of what's expected.
Finally, a reliable company would provide you with prior consultation and situation analysis. They would explain details of their commercial offer and its relatedness to your needs, as well as terms and conditions of collaboration and protection of your information. See for yourself what exactly you are being offered, and make your decision.