Why Reputation Management Is Crucial for Your Business's Success?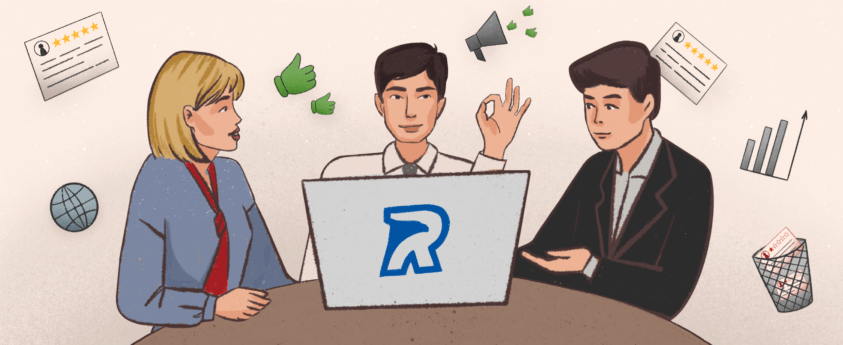 Reputation management is an ongoing, sometimes reactive process. It matters because modern consumers often refer to reviews and reputations before buying a product.
Some consumers will buy based on reputation alone, making it a powerful marketing influence when managed correctly. Managing your business's reputation can be done in many ways, from identifying reputation-impacting news to knowing how to remove articles from google. Here are just a few of the reasons to carefully manage your business's reputation
What do clients think about you?
It's free, confidential, and without obligation
Making A First Impression
For any business to get off the ground, it needs customers who are enticed by good marketing. Being recognized early on as a quality professional in your industry is a reputational boost to a new business. Well-established businesses also benefit from maintaining their professional image, as customers and competitors alike will have eyes on them.
Services like ours at Reputation America can help you portray the details you need for that positive impression. Preparing your business with a good reputation and cultivating that reputation as your business grows is foundational for success. A solid professional image is a strong step in developing a well-reputed business.
Creating Customer Loyalty
One thing businesses with well-managed reputations have in common is a degree of brand loyalty among their customer base. Consumers have gotten the product or service they needed and have been satisfied enough with it to return for future purchases. Often when a business has earned brand loyalty, those customers will ignore marketing from competitors. Having found the product that suits their needs, they have no interest in exploring further.
Cultivating this kind of loyalty with your customers depends on having a strong reputation to encourage initial buy-in. Increasing customer loyalty will serve to strengthen your business's reputation, as loyal customers may recommend your service to others. This potential feedback loop can be a powerful reputation-boosting tool.
Countering Competitors
Economic surveys have consistently shown that reputation is a high priority among businesses, with upwards of 86% of respondents making it an area of focus in 2021. Just as investments in better products give you an edge over competitors, investments in reputation management similarly benefit your business.
Becoming Easier To Find
One of the most visible consequences of reputation management for businesses is online visibility. With the volume of shopping that modern consumers do on the internet, being accessible on the web pays off. Your business will have to earn a high place on search engine rankings. Many factors contribute to search engine ranking, including how easy it is to find your business online.
Creating local and search engine-specific profiles for your business is a start. Managing your business reputation to accrue positive ratings and reviews can further boost your ranking. It also helps if other sites and businesses related to your industry have posted positive content about your services. This content should generally be distinct from reviews, like information about your services or when to seek them.
Preventing Reputational Damage
Despite any business's best efforts, not all customers can be pleased. There are many reasons that people may leave negative reviews or articles about products. Carefully considered reputation management can help your business navigate such situations gracefully and without incurring lasting impacts. There is an assortment of approaches to handling such situations, including:
Identify Reviews for Removal
Possibly the most common avenue for potential damage are reviews on popular platforms that customers refer to before purchasing. Use customer service or reputation management services like Reputation America to resolve matters that led to negative reviews. Those reviews can then be removed or possibly converted into positive reviews.
Learn How To Remove Articles From Google
Because Google is the go-to search engine for many consumers, Google's rankings greatly impact business reputation and success. Irrelevant, inaccurate, or negatively framed articles about your products on Google can lower your rankings, making your business less visible. Reputation America can assist you with how to remove articles from Google, so your ranking can grow.
Delete Outdated Information
As your business grows and your processes evolve, it's useful to archive and remove old details about your business. A simple way to protect your reputation is to prevent consumers from getting the wrong impression about your products. If old information is left up, it can set incorrect expectations, and confuse potential customers. Keeping information about your business location, products, and services updated is a core part of managing your business reputation.
Secure Your Reputation for a Better Business Future
While these are only a few of the ways reputation can affect business success, it is easy to see their impact. The experts at Reputation America can help you identify other ways to protect your business and strengthen its reputation. Visit us today to learn more about cases we've handled, the services we offer, and how we can assist your business toward success.
Still have questions?
It's free, confidential, and without obligation