What Is The Role Of ORM In Digital Marketing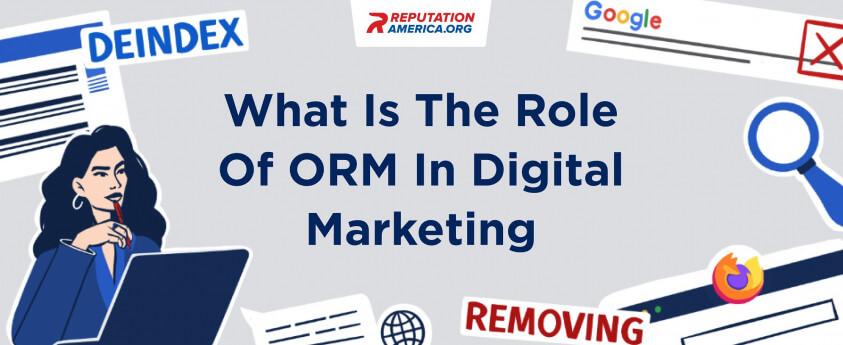 You've built your company a website and set up an Instagram business account. Now, it is enticing to think that you've got it all. An engaging post now and then, a few Instagram shares and your online profile is doing alright.
Hold off your triumph. Have you ever googled or looked up your company in other search engines? It's easy to think that you've got a handle on your social media and website. But chances are, you'll dig up lots of other information that you didn't have your hands on.
Customer reviews, industry-specific listings, and forums seem to mushroom all over the Internet.
While you can directly influence your website and Facebook page, you'll likely find a large amount of 'other' information that you have no control over and haven't contributed to. Business listings, reviews, and your business-related photos seem to appear from nowhere.
The looming threat can be quite intimidating, as your company's reputation could be in jeopardy. This is when online reputation management comes in.
Need to remove information?
It's free, confidential, and without obligation
Online Reputation Management In Digital Marketing
ORM is a massive buzzword among digital marketers. As the Big Google, Mighty Yahoo, and other search systems are watching your company, you might have wondered – what is ORM in digital marketing, and is it going to save my business?
Online reputation management refers to scanning, creating, or modifying your business's shared info in the Internet space. It also refers to encouraging search systems to surface the good-looking content to the top results where your future customers will likely find it. That is the main reason digital marketers choose to devote more time and energy toward monitoring their brand online.
Put simply, the question that ORM in digital marketing answers sounds like that: Are your online assets opening or shutting doors for your business?
Is Online Reputation Important For Data-Driven Marketing?
It takes customers a few clicks to pull out all kinds of information on search engines in today's data-driven world. The book is judged by its cover, and business is judged by its online presence. Did you know that almost 90% of shoppers look through online reviews even before landing on your website? By simply typing your company name into the search bar, they can get the look and feel of your brand without you knowing.
Therefore a poor or zero digital experience can slam your business and break your chances of establishing a leading position. This makes ORM omnipresent in all your business processes, from deals and partnerships to press coverage.
Is My Reputation Doing Me A Favor?
Even before you start with amends, you need to get an idea of your online impression. Rate your digital charisma by checking off the boxes from our checklist below.
Do your research
Leave no stone unturned, whether it's your company, personnel, solutions, or business listings. Has your website surfaced to the top five? If not, your SEO could do better.
Is a general impression favorable? You're not a hundred dollar bill to please all customers. There may be occasional negative reviews, but the image should be as positive as possible.
Check Your Google Business Profile
Have you ever seen business profiles showing up on Google Maps, Yahoo or Bing? This is called a local business listing. In an over digital vent market, business listings might be the big-ticket to boost your brand awareness and win over new customers. Ensure whether the information is accurate or set up a business listing if you don't have one.
Go Social
Carefully study your social channels. Do many people follow you? What is your posting cadence? Is your posting routine scarce? Do you have a high response rate? Does the feed showcase your fortes? Are your images of good quality? If these questions incite panic, then you must be missing out on your social media.
Social networks play an immense role in online reputation. Whether it's your hashtag, location, or profile, everything should reflect your business image in a favorable light.
Check Reviews
Online customer reviews give you a steady pipeline of positive content. In the best case, you'll stumble upon just a few negative feedbacks. If most of your reviews are filled with dissatisfaction, the chances are high that search engines will shove your website in the bin. On the contrary, if customers rate your services high, your rankings and sales grow. The most prominent review sites to check are Google reviews, Facebook, Angie's List, Yelp, and TrustPilot.
Oh, My Online Reputation Can Use Some Help – What Now?
Use Tools To Monitor Your Online Identity
The best way to put your finger on the pulse of the business' online representation is to use monitoring tools as a safety precaution. Google Alerts, Social Mention, and Trackur are among the most popular tools to keep an eye on your brand reputation. Make sure you mention your company's name, CEO, and products to see any repercussions coming.
Secure The Business By Enhancing Team Capacity
Getting your company online will reap major benefits for your business, provided that all top management members develop a robust social media presence. Your people are your most substantial assets and your front cover. Therefore, if customers decide to search for a particular founder or executive, their profiles should be on fire. But that doesn't mean you should turn a blind eye on rank-and-file employees. There digital footprints can also become a turning point for your reputation.
Amplify Your SEO Results
If your business does not appear on the first page of the search, your site is poorly optimized for search results. Or you might need a brand-building content strategy. The best way to boost your SEO and gain extra points is to use a sponsored blog posts network that brings together brands and influencers who can help with promoting.
If you are a DIY type of person, you can leverage SEO techniques on your own. Start with a keyword research by using one of the specialized tools that help gather valuable SEO bits. These tools can also help you with competitor research, which is tantamount for on-point SEO.
Besides, having no results when googling your business is as harmful as a negative online reputation. If your rivals decide to fudge negative reviews about your company, these reviews will shine bright for the lack of other content.
Use Outreach Possibilities
Online listings and business cards do not take long to create, but can be extremely lucrative for your online presence. Thus, there are industry platforms where you can simply add the company, its description and contact information. Those online directories tend to be high-traffic, long-standing platforms that have high domain authority, which can boost your SEO and contribute to online presence.
Plan PR Events
All the world's a stage and public relationships help your business leaders have their exits and entrances. If you want to patch up your brand reputation, you should consider organizing some strategic PR events to cast fresh light on your company. This could include events like media tasting, brand activation, sessions, and workshops.
Contact A Professional To Patch Up Your Reputation
If your attempts are futile or you don't have the capacity to handle your ORM within your company, turn to a reputable agency like reputationamerica.org to get the positive results as quickly as possible. In most cases, the impression your business leaves can be refined. The longer harmful negative content is left online, the more havoc it will wreak. Make reputation work for your benefit, not for your failure.
Solving reputational problems by Removing
Negative information can turn out to be a startup kiss of death for your company and personal reputation online as well. Besides, there are some cases when it's more effective to simply remove online content than trying to address the issue. So, sometimes, contacting ORM teams like Reputation America is your safest bet. Reputation America specializes in removing negative information by applying only legal techniques and tactics. Thus, they will help you handle your reputation issues with no negative consequences. Guarantees and obligations are clearly outlined in the contract so that you won't have to worry about the result.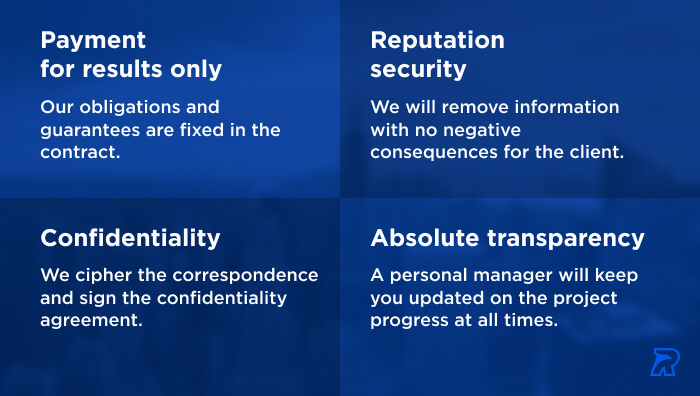 Solving reputational problems by Deindex
In particular, the deindexing technique has proved to be effective for removing any traces of negative references. This ORM tool is equivalent to removing your house from all maps. Except, your house is negative content that will have no chance of showing up ever again.
Find A Social Media Manager
Social media has taken over all spheres of our lives. Even before customers check out your website, they monitor how your company positions itself in the digital space. A social media specialist applies a strategy that will get you more followers and engagement and build brand awareness in the long run. So whether you're hiring an agency or give the lead to the in-house staff, you need a creative social media manager, anyway.
The Bottom Line
There you go – online reputation roundup. As you see, a solid online presence and digital marketing go hand-in-hand. Put simply, if your business is not online, you do not exist. And you can't leverage the benefits of your digital strategy without mending online reputation, so it is paramount to constantly maintain, monitor and perfect your digital well-being. Although ORM is a labor-intensive activity, keeping an eye on how your brand is positioned online will benefit your company in the long term.