Remove Videos from YouTube or any other Video Source
Pricing
Amount and complexity

Popularity and credibility of the site

Expert involvement

Other factors
Results and timeframes
Information has been removed.

From 21 to 60 days
Payment
Wire transfer

Credit Card

Zelle
---
Reputation America Removes Youtube Videos about You and Your Business.
Simple removing will not work in the case someone is framing your business out loud on such platforms as Youtube, Vimeo, or another video source.
You need to stay patient and cold-minded to manage this situation in the right way. Here we will take a look at methods we use to manage Youtube Slander cases.
Get consultation to repair your reputation
It's free, confidential, and without obligation
How We Work
Our experts negotiate to remove video – we focus on getting on the right side of the authors and persuade them to remove negativity. Our company upholds transparency and accountability. So, we neither hack sites nor threaten the authors, or the site administrators. We firmly believe in professional negotiations and reveal no personal information to third parties
Need to remove video?
It's free, confidential, and without obligation
Let's get one thing clear. We don't remove negative videos in the conventional sense, and you shouldn't treat us like a magic eraser that can remove everything from the internet. We solve a problem between the client and the author of negative information. We look for the pain points of both sides, negotiate and eliminate the reasons for any negative motive. We have always managed to talk authors out of ill motives and request them to remove the published content from the Internet themselves.
We tackle the projects that others refused.
Once we got a request from a woman who ended up her relationship with her husband at a bad point. They divorced and he started to blackmail her, but when it didn't work and she disagree to make up with him, he posted more than thirty different videos on his channel which contain a lot of personal and sensitive information about our client.
She found out about us and asked us for help. She was desperate. This video was found by her family and friends, and ever her employer found out about them. We agreed to help her and resolved the conflict in two months. However, as the client's wish was to never contact the author of the content, we worked through the platforms themselves. We provide her with guarantees, that we will do our best, to secure her from the situation where this content will be republished by the author. It was two years ago, and the content wasn't republished, but we are still in touch with her.
Why do we need to negotiate?
On the Internet, the common social rules are applicable. One cannot remove a video without consequences. From the author's point of view, it is theft and just another evidence that he or she is right. Most likely, he will respond to such rude actions with a new negative and worse outburst. Legal pressure, threats, and rough social engineering will have the same result.
We have built up our own team specialized in negative information removal. It includes removing engineers, negotiators, psychologists, conflict resolution specialists, and lawyers. These experts work tirelessly to establish a positive environment during negotiations and ensure each information removal we handle is a success.
Ian
Chief Product Officer
Removing engineers are negotiators and psychologists, these are specialists in human behavior who understand how people are likely to respond to various situations. We help both the client, who needs information removed from the internet and the author to find a common ground, agree on neutralization of negative information, and to solve other issues.
Unfortunately, court trials provide no guaranteed result, cause unnecessary hype, and turn the author of the video into a victim. The period of examination of lawsuits related to removing information on the Internet starts from six months, and the company has to pay for linguistic expertise and an experienced lawyer. However, winning the trial solves nothing.
To remove negative information forever, the parties shouldn't feel offended. We know how to achieve it.
What will you get by contacting Reputation America Agency?
By removing negative information, you can correct the mistakes of the past that could hinder the current development. However, it shouldn't turn into your headache. At Reputation America Agency, we understand how the process works. Choosing us will give you the following;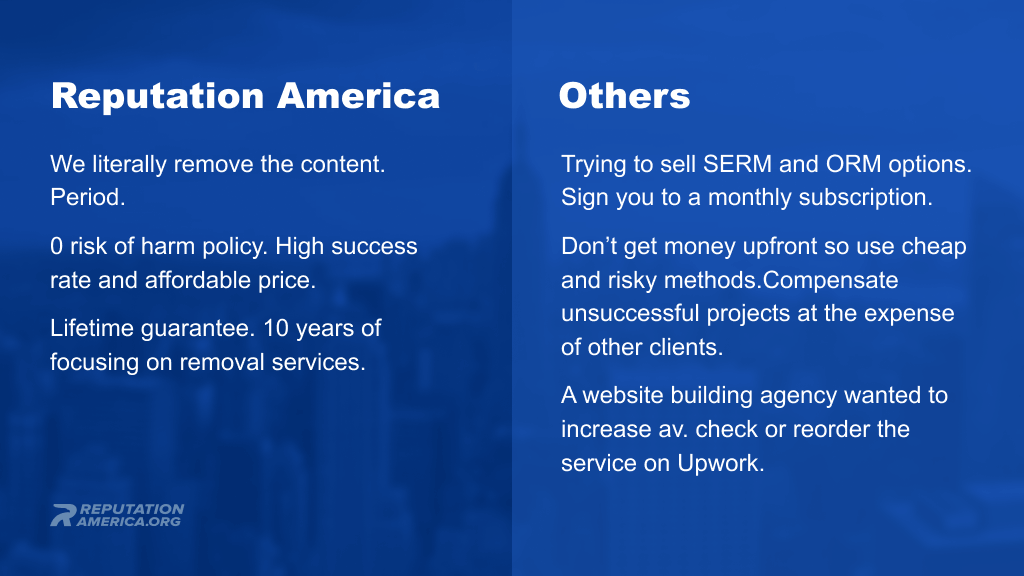 Information removal: 5 guarantees for our clients
1.
Any sites.
Should the need arise, we will find a way to remove negative information from all websites including WikiLeaks.
2.
Tools.
The working strategies of information removal specialists are discussed at the stage of developing technical assignment. All of them are legal and won't affect the client's reputation.
3. KPI. The assignment clearly stipulates the working goals. It is about working with numbers, not with abstract matters.
4. Completion time. We will legally remove negative information in 45 days. Experience has shown that it's better to spend more time, but make it safe and effective.
5. Lifetime guarantee. If the negativity appears once again, we will remove it at no additional cost.