SERM vs. Removing: How to Efficiently Suppress Negative Content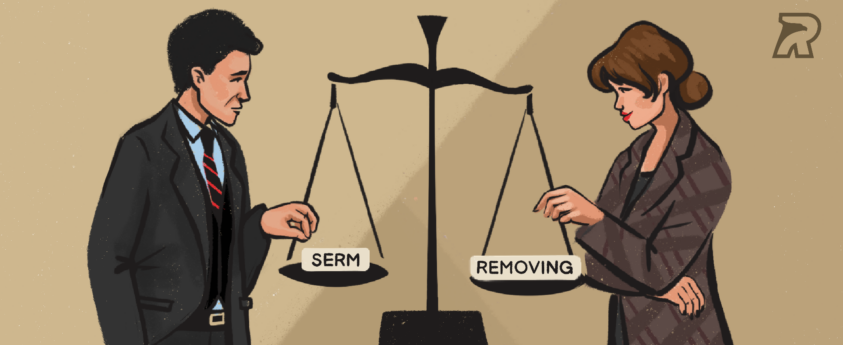 Search engine reputation management (SERM) is only relevant if nothing poses a threat to your online image.
If, however, you have harmful content to tackle and your reputation is in danger, it's high time to abandon SERM and focus on removing negativity for the sake of a flawless and reliable name.
Learn what SERM is, what removal entails, and when to use each strategy to suppress negative content – read on for insight from Reputation America.
Don't let negativity ruin your business
It's free, confidential, and without obligation
What Is SERM and How Does It Help Suppress Negative Search Results?
SERM or Search Engine Reputation Management is an approach to reputation management that allows a brand to build a positive image in organic search results. It focuses on both levels of online brand perception:
Official-level: Vertical communication, which includes advertisements, official websites, and social media accounts.
User-level: Horizontal communication, which encompasses user-generated content (reviews, goods and services overviews, professional forums, and communities).
Since people trust each other more than ads, it's no surprise that reviews and third-party overviews drive more trust than brand-generated messages. Therefore, such information has a higher reach and more impact on sales. In fact, negative links may cost up to 40% of potential consumers, depending on the content. Given that, they can undermine all the PR and marketing efforts at once.
SERM's goal is to strengthen a brand's reputation in organic search by suppressing negative search results and boosting the positive ones. It pairs well with an advertisement strategy, as SERM builds trust and reliability for the ads to attract more clients. When it comes to harmful information, though, SERM is a waste of time: once you stop to suppress negative search results, the chances are high they will reach the top once again.
There are three alternative goals that SERM helps to achieve:
Filling in an info vacuum: Developing brands use SERM to enrich the search results with branded info. They create landings, social media profiles, or catalogs.
Boosting the branded pages to the top SERP (Search Engine Results Pages): If a user finds a lot of outdated sources or links to companies with similar names, SERM helps conquer the search engine results with the right pages.
Holding positions: If the top 5 SERPs already belong to you and the rest don't pose a threat, you may want to generate more positive materials to act as a shield for negative links.
You can't count on the profound efficiency of SERM if your goals are beyond those listed above. What is more, it is a tool with prolonged results: usually, they are analyzed 3-4 months later due to the specifics of search engines' algorithms.
What Is Removing and How Does It Help Suppress Negative Content?
Removing isn't about suppressing negative search results but rather deleting the sources of harmful content forever. The method is much more efficient since potential and existing customers can't find the negativity, as it doesn't exist at all.
Take a look at the Wirecard case: a German payment processor faced a series of accounting scandals. As a result, there are numerous articles and even a dedicated Wikipedia page that undermines the brand's image as soon as you search its name.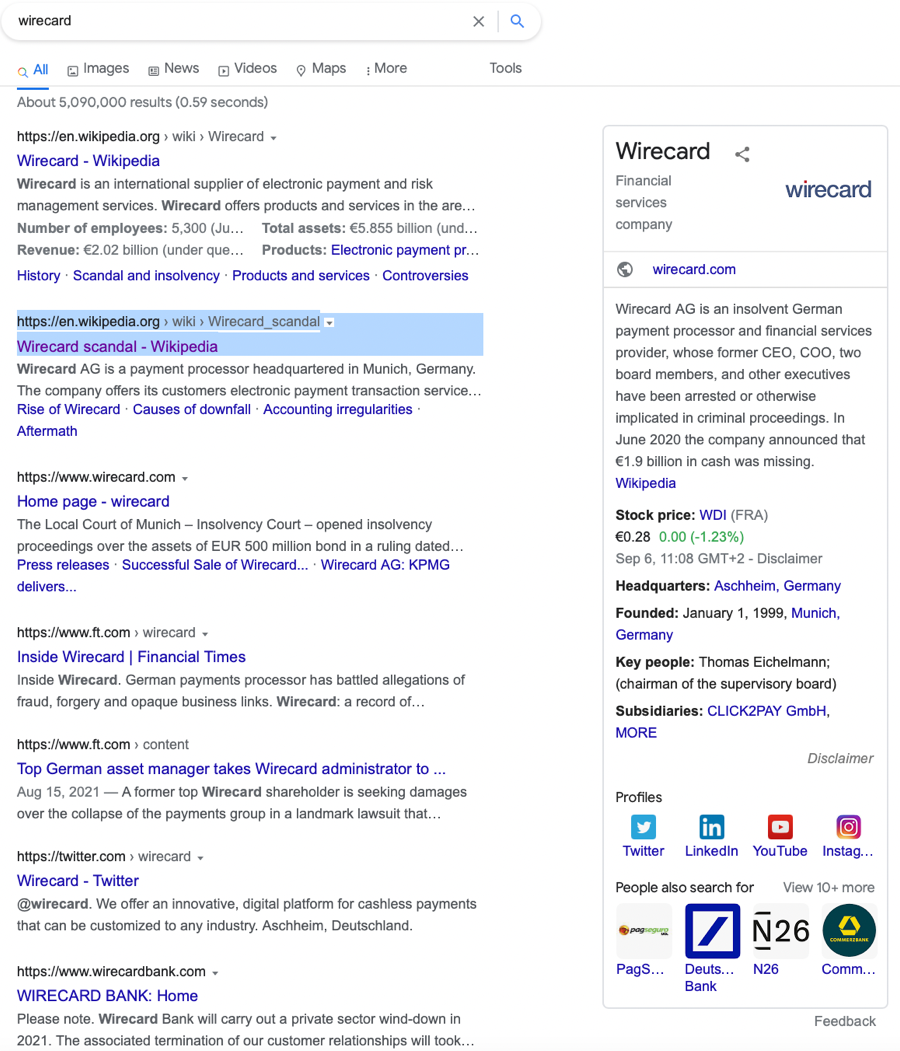 Here we are talking about tons of articles that drive users and consumers away from the brand. If even one manages to get to the top, a client may want to dig deeper by Googling – and they will find a lot of harmful information that will make them choose competitors.
Removing is efficient, as it doesn't merely suppress negative content but helps eliminate the consequences by removing the root of the problem. Such an approach isn't as simple as it may seem. It requires tactics and experience to successfully proceed with three data removing steps:
Investigation to detect all the sources of negativity and tackle them together
Strategy to determine how to delete the harmful content using the safest ways
Implementation, which requires finding the author, site admin, or hosting provider's contacts and negotiating with them
If you apply the correct negotiating strategy based on law and psychology, the chance of success is high. Even a single wrong step, however, may result in even more negative information and significant reputational losses.
That is why trying to remove the information yourself is not only tiresome but also risky. It's better to delegate such a sensitive issue to Reputation America professionals who have 10+ years of experience and use only safe and legal methods.
SERM vs. Removing: Which One to Use?
While both SERM and removing can help you to tackle harmful content, you need to realize that in the long term, SERM is a waste of time and money in terms of dealing with negativity.  It's a viable solution in the following cases only:
A new company has little to no corporate information and needs to fill in organic search results.
SEO keywords generate irrelevant content.
A company has already established a good online reputation and wants to safeguard it against negativity that may appear in the future.
If your goal doesn't fall into these categories, you should invest in removing, which is used when:
The Internet is full of harmful content that drives away partners, investors, potential clients ot the desired positon.
A brand faced a reputational crisis and needs to take immediate action.
Negative information isn't harmful if it can't be found. While SERM helps to suppress it, removal is a sure way to get rid of it.
Suppose both approaches don't deliver the desired outcome or can't be implemented; what shall you do then? You might try to deindex or delete the link to the source with unwanted data from search engine results. Such an approach is more effective than SERM as users won't be able to access the site unless they have a direct link. But it still poses more risks compared to removing, as someone can reveal your hidden secrets or unwanted content.
Still have questions?
It's free, confidential, and without obligation