Open Source Intelligence as a Way to Clean Up Digital Reputation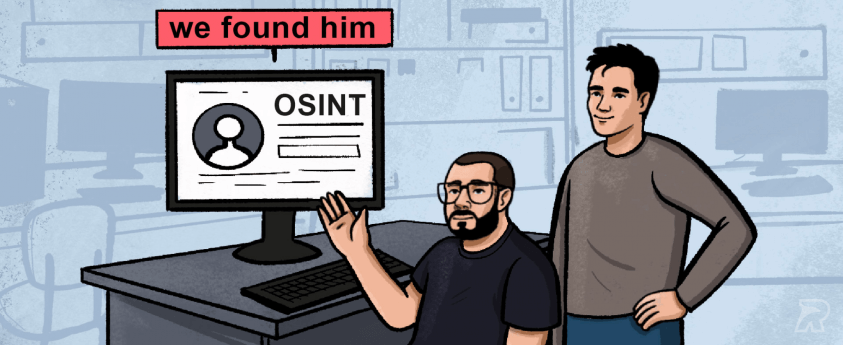 Once we found an anonymous author who wrote a bad note by finding his digital footprint. He was assured that his account was hacked and website administration was paid for this. All in all, how else could his identity be found?
The truth was that nobody compromised his account. Actually, his profile was anonymous but was linked to an email that turned up on some car forum. From there traces led to his social media account. Due to OSINT, social media anonymity was revealed in 20 minutes.
Today we'll talk about open source intelligence, its capabilities, and basic techniques. Let's figure out how we use these tools in our work and whether users can protect themselves from surveillance. 
This article is for those who want to figure out why reputation agencies should engage in legal intelligence and why we are all always in the crosshairs(and how to stop worrying about it).
We will conduct safe negotiations without risk and publicity
It's free, confidential, and without obligation
OSINT Websites: Brief Description
We all think that we are pretty careful on the Web so our identity is wholly protected. But that is not the case. Every action leaves a digital footprint. OSINT tools help to collect these traces legally.
OSINT refers to the collection of publicly available information for subsequent analysis. It is common for us to use open source intelligence websites in daily life.
If we want to go on a vacation, we compare hotel prices, read reviews and news about city districts, check local methods of cheating tourists, etc. Overall, it is data collection necessary for making a decision.
The other side of open source intelligence companies is advanced database search with special bots, extensions, and special search engine commands. This is how intelligence officers, corporate intelligence, or bank security work.
The key aspects in OSINT social media analysis will be specialists' experience. A newer will miss 90% of important bits of data, but a professional can notice a strange photo background or unusual time of activity on social networks. Using OSINT websites is sometimes pegged as a "gray" method.
For example, when you want to find information about a person. We know that in some leaked databases we may find a password for their email (and millions of other passwords as well). You can take advantage of people's carelessness and read their emails, but we do not do this and do not advise you.
How Good is OSINT and How We Use It
Open source intelligence helps to analyze the concerted parties of a reputational dispute to offer them the best and safest solution.
OSINT tools are the basis for 90% of modern investigative journalism. The effectiveness of the methods depends on the skills of those who use OSINT. We can see the results of OSINT in investigative journalism like Bellingcat.
It raises the question: why should a reputational agency use OSINT tools? The answer lies in our method of legally deleting information. Our methodology operates across negotiations, troubleshooting, psychology, and jurisprudence. You need to know as much as possible. Using OSINT, our cyber security professionals manage to enter into a dialogue with a party. 
Ian
Chief Product Officer

If we want to understand the author of the negativity, we need to delve into psychology, look for the reasons that prompted him to write a review. The more you know about the author, the more opportunities for building a dialogue.

Our clients do not want publicity and conflict escalation so they choose us. We value trust and offer the safest removal methods. Here, as in medicine: everything is based on the principle "First, do no harm".
OSINT Example – Removing a Negative Article
A client turned to us with a task – to remove a negative article about a cosmetic product. The information was written incorrectly and illegally. The article was deleted from the original website, but this did not prevent the parsers' website algorithms from copying this article at the time of publication. After a while, it reappeared and hit the first lines of search results.
The first thing we tried to do was write to the editorial office. But all the emails found either did not work, or were full, or were not serviced. The website did not have any contact details or mentions of editorial staff with whom to contact.
We looked up the website through WHOIS services and found a hosting provider. Through it, we planned to contact the publisher, but there was no answer there either.
We wrote the name of the media in the search engines, and found a link to its app on Google Play, but upon switching we were met – 404 and Page not found. We were up to the task and tried to look into the cached version *of this link. The trick was successful – we found what we were looking for – the previous versions of the app description. Here was mentioned the developer's email. We contacted the developer and the content was deleted. Result:

* The web page does not remain available forever. Fortunately, Google regularly takes snapshots of web pages that we can view later. At their core, cached pages are backups that are stored on Google servers for a while.
Can I Hide from OSINT?
You'll have to drive off and live in a dugout somewhere in the forest. Also, you should destroy the passport, secure an apartment, and demagnetize all information carriers. But that won't help either. In present-day conditions, it is impossible to defend against external evaluation. There is a chance to complicate the work of OSINT websites, but for this, you need to stop using social media, avoid linking SSN, minimize contacts with government institutions, etc. It can hardly be called a full-fledged life.
Arsenii
CEO
I have completely switched off privacy settings. I can't hide my digital footprint, as I know that it doesn't make sense. We live now in an open globalized world. The more you remember that you are being tracked, the easier and calmer life will be.