How to Remove Information From Whitepages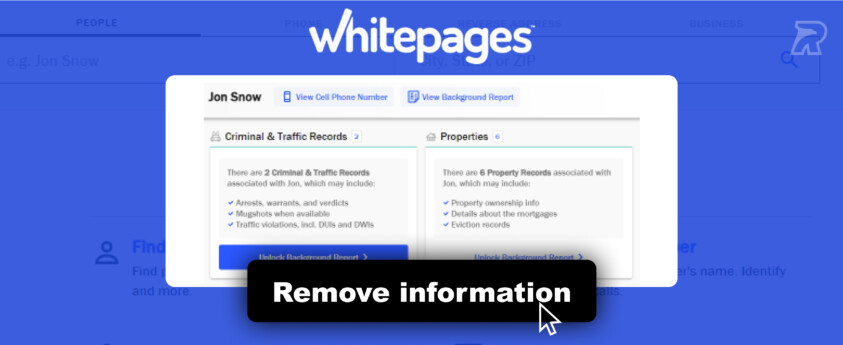 A step-by-step guide on how to do it yourself.
With tons of information readily available on the Internet, anyone can easily learn your age, address, or house number by typing in your name on the Whitepages directory. What's more, these sites sometimes share these details with third parties – like your cell number, occupation, and even criminal record (if you have one). 
Keep your personal information private with Reputation America
It's free, confidential, and without obligation
Some people don't take the accessibility of private information seriously. At the same time, chances are they also don't want any random person somewhere in the world to find their contact details. After all, It should be up to you – whether you want to share personal information or not.
Fortunately, the problem can be solved if you delete info from Whitepages. In this article, we will elaborate on how to remove information from Whitepages and similar online directories to help you protect yourself from detractors and fraud.
A Step-by-Step Guide on How to Remove Yourself From Whitepages
Whitepages isn't the only online directory that is worth your attention. There are dozens of sites – for instance, Spokeo and FamilyTreeNow. Alas, there isn't one single method to remove yourself from Whitepages and all the other websites right away. That's why you will have to handle each online directory separately.
The worst thing is that some resources like Zabasearch and Pipl don't offer any options to remove your name. For the majority of online directories, though, you can submit an opt-out request.
How to Remove Personal Information From Whitepages
Whitepages, one of the most popular online directories, is usually the first destination for those who want to access your private information. Users can find out your name, age, relatives, house number for free. Someone particularly nosy can pay $4.99 and learn all your previous addresses, cell number, criminal and financial records.
To remove all the information from Whitepages:
Go to the Whitepages website and find your profile. For this, enter your name and address in the search bar. If there are several search results, check the age and relatives to find your profile.
Copy the profile's URL.
Visit the Opt-Out page, paste the URL of your profile, and click 'Next'.
Double-check that it's you and click 'Delete Me'.
Specify why you want to delete the account, pass the verification, and have your name removed from Whitepages.
Normally, the information disappears from the site within 24 hours, although it may appear on Google or Bing slightly longer. It doesn't mean that your personal data is still available publicly –  these search engines may have it cached. If, however, you want to speed the process up, you can contact Google or Bing directly to notify them that the data has already been deleted from the source sites.
To remove yourself from Whitepages completely, you need to take care of premium information that can be accessed even if you delete all the other data. The process takes place in the following way:
Find your profile on Whitepages.
Right-click on the 'View Full Report' button and choose 'Copy Link Address' in the menu opened to get the URL without paying for the record.
Visit the Support page and choose 'I need to edit or remove a listing' from the drop-down menu.
Fill in the questionnaire by providing your email address, listing name, address, city and state, phone number, and the reason why you want to remove my info from Whitepages. Also, fill in 'Subject' and 'Description' specifying why you don't want the private information to be displayed on the site.
Once you submit the request, you will receive an email notifying you that the request is processing.
In approximately 24 hours, you will get another email stating that the information was successfully removed.
Normally, it takes about 2-3 days for your information to be completely deleted. Then, users will be able to only find your name without other personal information.
How to Remove Information From Sites Other Than Whitepages
The majority of online directories provide opt-out forms for you to delete your name and other information. For example, FamilyTreeNow and Spokeo have the same process as Whitepages:
Find your profile and copy the URL.
Go to the opt-out form and fill it in.
Complete the verification.
Wait for your private data to be deleted.
If there is no opt-out form, you can contact the support team and explain what you need. Please note that it may take more than a couple of days to get a reply and have your information removed.
Another way is to handle it through Google. This search engine has a dedicated page to remove your personal information. You'll need to choose which type of content you want to be deleted, fill in the form, and wait for the reply from the support.
Remove Yourself From Whitepages and Other Sites Without Hassle and Stress
While deleting your personal information from online directories isn't rocket science, it still requires a lot of time and effort. It's not uncommon for your data to stay available on several sites that have different removal processes. Therefore, you will have to contact each of them and proceed on a case-by-case basis.
Reputation America can take this burden off your shoulder by offering professional data removal services. We can quickly identify all the sources that know and share your name, age, occupation, and contact details. Once we find all the culprits, we submit data removal requests everywhere to scrub your online presence.
Not only does it simplify your life, but it also helps you to avoid unwanted consequences. If the opt-out request is filled incorrectly, you may never get your information deleted. Thanks to our extensive experience in data removal, we know what to do if the requests don't work. For example, we reach out to someone on the technical support team, site administrators, or hosting providers and negotiate the terms of data removal with them.
Our mission is to have your private data deleted even if there are many obstacles ahead. That's why we implement multiple approaches and offer a lifetime guarantee on our services, meaning that if the information appears once again, we will delete it for free.
Don't let sensitive information spoil your life! Protect yourself by deleting any private data from Whitepages. Contact us now to get rid of it safely and quickly!
Still have questions?
It's free, confidential, and without obligation