How Do I Remove Unwanted Information From the Internet?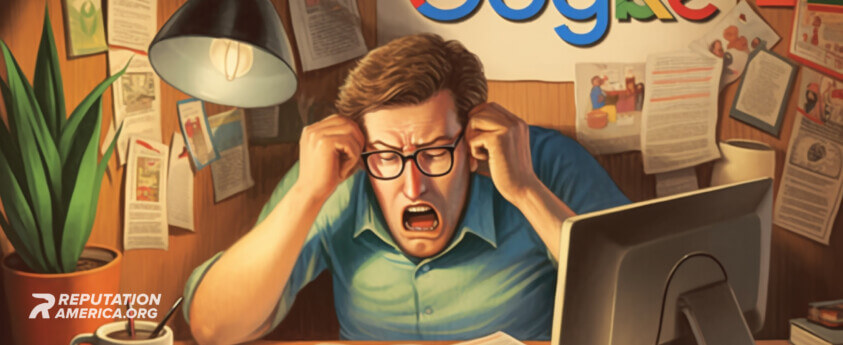 Unwanted Negative information published online can harm your reputation, pushing potential opportunities away. If this ever happens to you, immediate action is necessary to prevent the situation from worsening. Here's how to remove articles from Google that contain negative information about you or your business. You can also hire us at Reputation America to expertly handle the negotiation and removal of harmful content.
How To Remove Articles From Google
1. Contact the Website Owner
Contacting the negative content's publisher is usually the best place to start. Visit the website, get their contact details, and reach out to them. Explain why the article is damaging to your reputation, and ask them if they can remove it. Depending on your situation and the evidence you provide, they may be willing to take the article down. At Reputation America, we have a team of negotiators, conflict-resolution specialists, and psychologists. We can identify pain points for both parties and work out a win-win solution to remove negative articles from Google.
2. Use Google's Removal Request
You can contact Google directly if the website owner does not respond or refuses to remove the content. It allows you to make formal requests to Google for the removal of certain web pages from their search engine results page. That option can work mainly if the article contains personal information like your social security number, DMCA violations, or any other content that the law views as illegal.
The downside is that it's a slow process, and there's no guarantee the request will be granted. If the article doesn't meet the removal criteria, Google reserves the right to deny your application.
3. File a Legal Takedown Notice
Remove articles from Google by filing a legal takedown notice. This requires you to prove that the article or the website violates certain laws, such as copyright infringement. Defamation and invasion of privacy are also valid legal grounds for filing a takedown notice. A lawyer can be beneficial in preparing and sending the notice, as they'll know all the correct procedures and requirements.
Takedown notices are usually successful in removing articles from Google as long as you can prove the article infringes on your rights. The downside is that it can be expensive and may take longer than other methods.
4. Suppress Negative Articles With Positive Content
When all else fails, you can try to suppress the negative article by overwhelming it with positive content. When people search for your name on Google, they'll find content that speaks positively of you. You may need SEO experts for this work because you want the positive content to appear higher in search engine rankings. The negative content will still be out there, but not many people will see it if it is combated with enough positive reviews. A small downside to this method is that SEO takes time and can be expensive.
Contact Reputation America to Remove Negative Online Content
At Reputation America, we focus on negotiation as the main part of our negative content removal strategy. It's a method we've seen work for many clients and the quickest way to get results. Let us use our proven approach to help you remove damaging articles and restore your online reputation. Contact us today for a consultation.