How Can You on Google Maps Delete Reviews?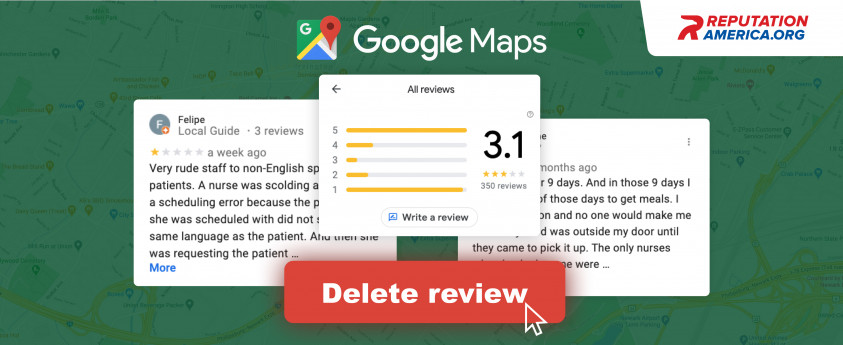 Answer, report, and negotiate.
Four methods, how to remove Google reviews from maps and one working lifehack. Not all of them will remove unwanted information, but will help at least to neutralize it.
Order prompt and safe Google Maps review removal
It's free, confidential, and without obligation
Why is it hard to delete Google Maps reviews?
Competent moderation. Google will never publish a review until it has been verified. It requires a lot of resources, but its checking pays off. According to unofficial statistics, one tenth of all feedback is blocked for violating a company's internal rules.
If a review has been published, most likely it complies with Google policy.
Feedback may reappear. If the moderator removes the review – by himself or upon a user's request – the text will disappear from the feed. However, the review will remain in the My Activity section of the author's profile, so the author will be able to amend the text and send it for publication again.
And it is taken for granted that the re-published review doesn't violate Google policy. It will be much harder to remove it.
Respond to a review
Difficulty level: ⭐⭐⭐
You will need: a business account and letter writing skills
Disadvantages: a negative review on Google Maps will weaken the impact, but the rating will remain the same
Polite responses to reviews encourage other customers to leave their feedback. New reviews are more detailed, and users tend to attach photos to them. The polite company's main reward is that their average rating is 0.5 higher than that of their competitors. This is a research result according to Harvard Business Review.
Consider a negative feedback as an opportunity to get additional reviews. In the long run, the company will benefit from it.
How to remove Google reviews from map. Respond to all reviews – both positive and negative. Show your customers that their opinion reaches you. This might be cliched advice if it weren't neglected so often.
Report the review
Difficulty level: ⭐⭐⭐⭐
You will need: a business account and proof of Google policy violation
Disadvantages: violations are rare, and the administration's decision is hard to predict
There are 10 reasons why Google may prohibit publishing content; however, you can complain about two of them only: impersonation and conflict of interests. Experience has shown that all other violations are detected by the administration.
Let's have a closer look at three of these violations.
Fake content. It's prohibited to copy your own reviews from other sites. Copy the review text to a search engine like Google or Bing to check if it is unique. If it matches a review previously published on other sites, you can report it.
There used to be a workable nasty trick. You could create the user's clone account on another site and copy the review and report it to Google. Today, that won't work anymore: moderators will check the creation dates and account activity. At the worst, you will be blocked for rating manipulation.
Impersonation. You can't sign for a representative of a third-party company or a group of people, or hide behind someone else's identity.
Conflict of interests. This includes manipulating the competitor's or a former employer's rating and other actions, which the review author is interested in.
If you are sure that the review in question meets these criteria, collect evidence, and write to Google.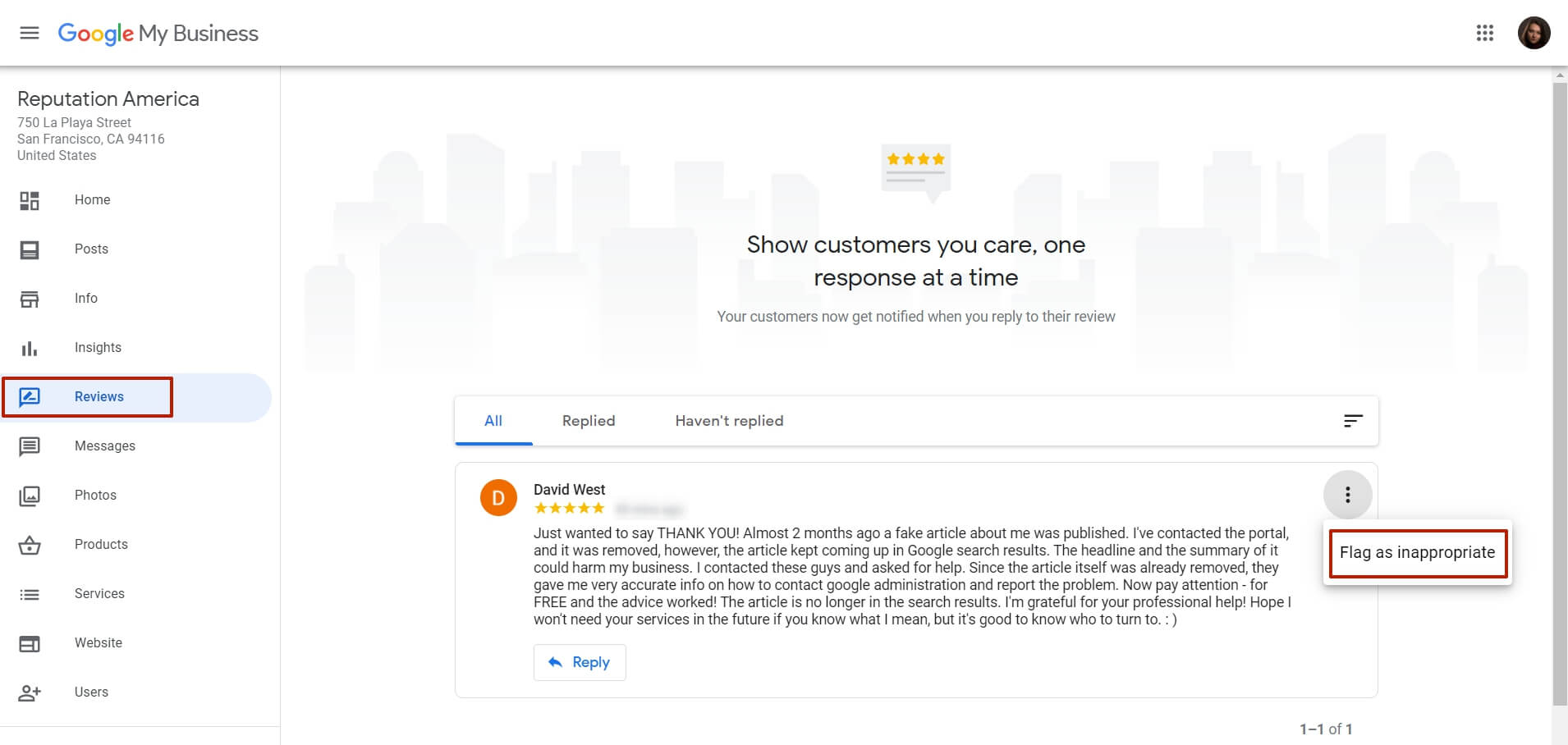 Open the My Business section and select the Reviews submenu in the left column. Next, find the one you want, click on the three dots, and then click on Flag as Inappropriate.
How to delete Google map review. Report the text. There's a chance to have the review removed from the feed. However, it may be re-published if the user changes the content. Google always gives reviews a second chance.
A lifehack — how to speed up the processing of your report
The company is more likely to win over moderators face to face. There is a method for the said purpose – using the Support tab.
Select Support in the My Business section.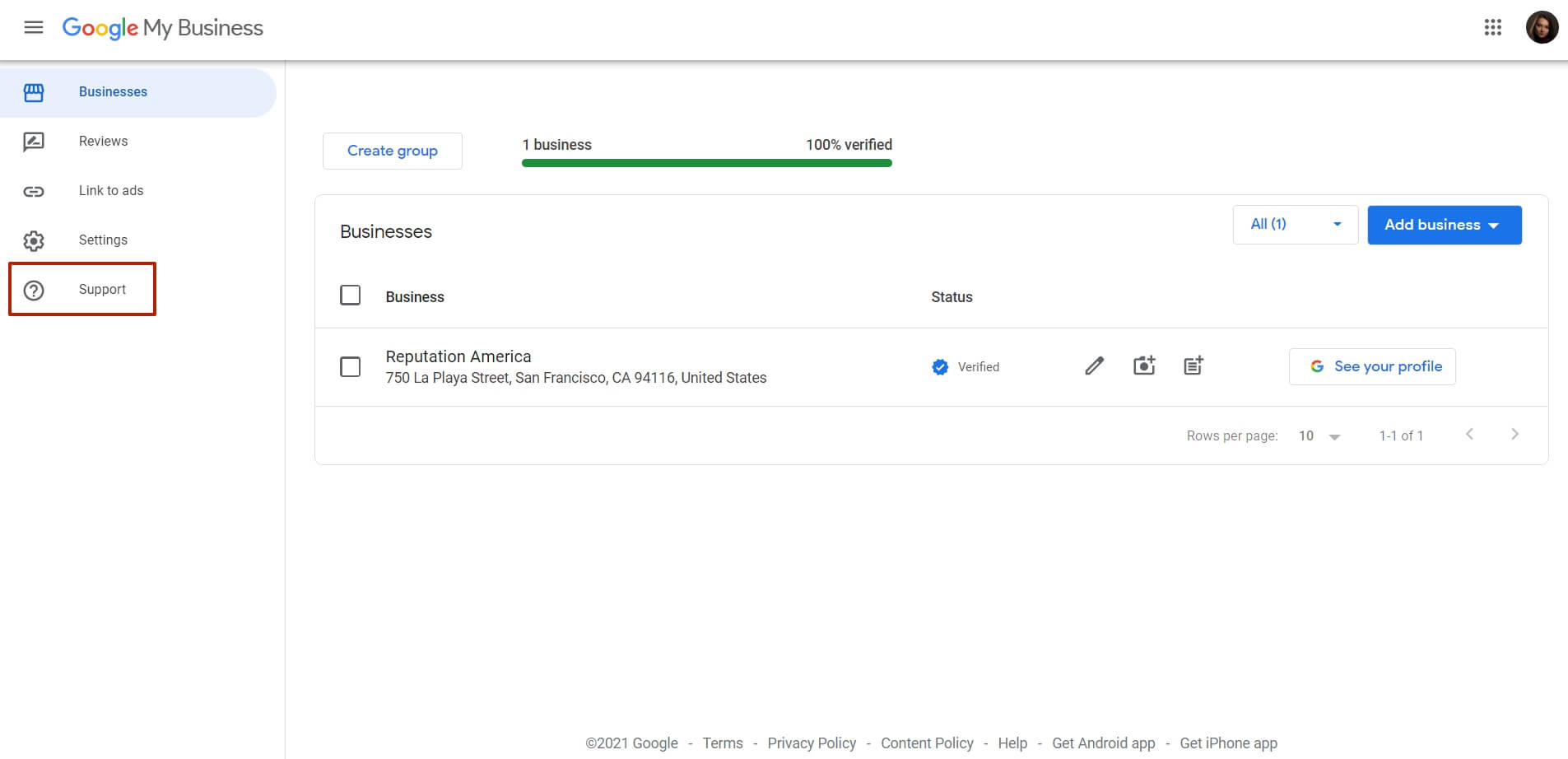 Click on Contact us in the pop-up window.
In the problem description, specify "dispute a negative review". In fact, you can choose any other wording.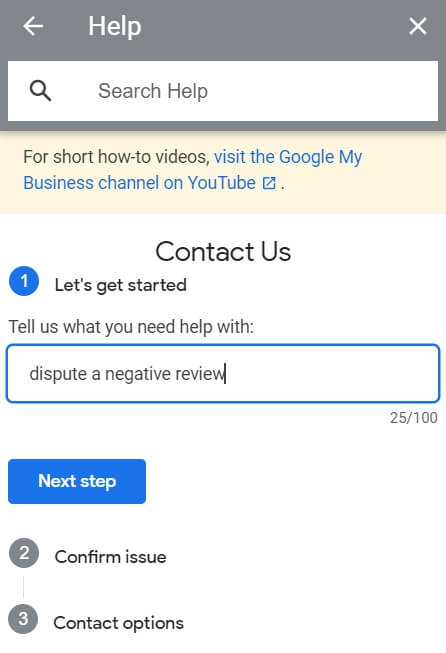 Click on the Other icon in the pop-up window.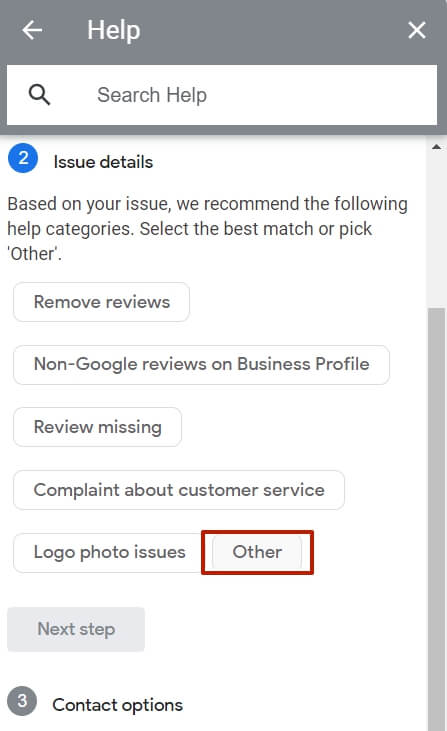 Click on the Next step button.
From the contact options, choose a convenient one to use to contact Google representatives. During the corona crisis, email is the only one available.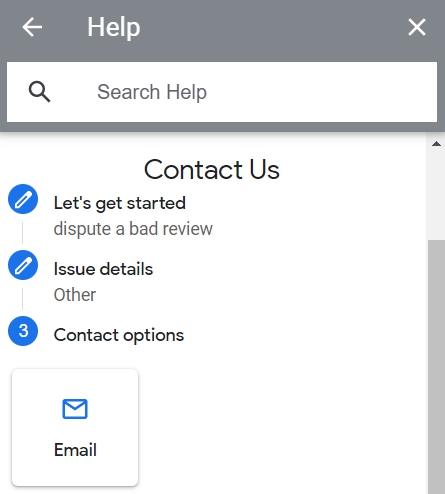 Persuade the client to remove Google Maps review
Difficulty level: ⭐⭐⭐⭐⭐
You will need: a business account and negotiation skills
Disadvantages: a client may ignore you
In 2019, Google added a messenger to Google Maps so that users could contact the stores, restaurants, cafes, and other representatives right away. This has simplified review matters because now it is possible to contact users directly.
You can on Google Maps delete reviews by persuading a client to do it voluntarily. At the least, you will have to apologize and make amends.
Get the negative author's angle on the matter. The person turned to the company and was dissatisfied. He spent time writing a negative review on Google Maps, so he wants to attract attention and solve the problem. Internally, the person is ready for dialogue; all you need is to show your interest.
To get in touch and ask the client to write a personal message to the company. You may address the person in the following way:
Dear sir, Unfortunately, due to the high workload last week and some of the employees being on sick leave, we failed to serve you promptly, for which we sincerely apologize. We have solved this problem and it will never happen again. Please contact us by personal message so that we can make amends.
If the client has responded, do your best to agree on a solution to the matter. Further actions depend on the situation. Keep in mind: people usually want to satisfy their needs, not get money from the company. (Unfortunately, this also happens.) The operator was rude – make him apologize; the delivered pizza was cold – give the client a hot one, etc.
How to delete a review on Google Maps. Demonstrate that you do care about the client's opinion and strive to solve his problem. When there is no reason for negativity, you can on Google Maps delete reviews.
How to save your time and nerves
Difficulty level: ⭐
You will need: to turn to the Reputation America agency
Disadvantages: none
People turn to us when negative reviews spoil their company's life here and now. The result is all you pay for, and we provide a lifetime warranty for the review removed from Google Maps.
We don't remove negative reviews in the conventional sense – no way are we a magic eraser that deletes everything. We solve the conflict between the client and the author of the negative feedback. We find the 'sore spots' of both sides, negotiate and eliminate the reasons why the negative feedback appeared. The author is the one to remove the published information from the Internet.
Indeed, these are the same negotiations that we were talking about in the previous section. However, we specialize in reputation crisis management and have legally removed more than 2,000 negative-containing web pages.
If you have any questions or doubts – we'll provide any details and advice you may need.
Learn more about our Information removal service
We will help to remove a review from Google Maps confidentially and in a  stress-free manner.
Any doubts?
It's free, confidential, and without obligation