CEO Reputation Management Impact: Myths and Grim Reality
Why a leader's reputation is still important and who pays attention to it.
A business with a strong corporate reputation attracts the best employees, the customers value their products more and are ready to pay more. It's better if the business has a flawless leader. In this case, sales will grow.
Let's look at how a positive CEO reputation affects the company's operations, how to improve it, and how this can be converted into sales.
What factors influence company reputation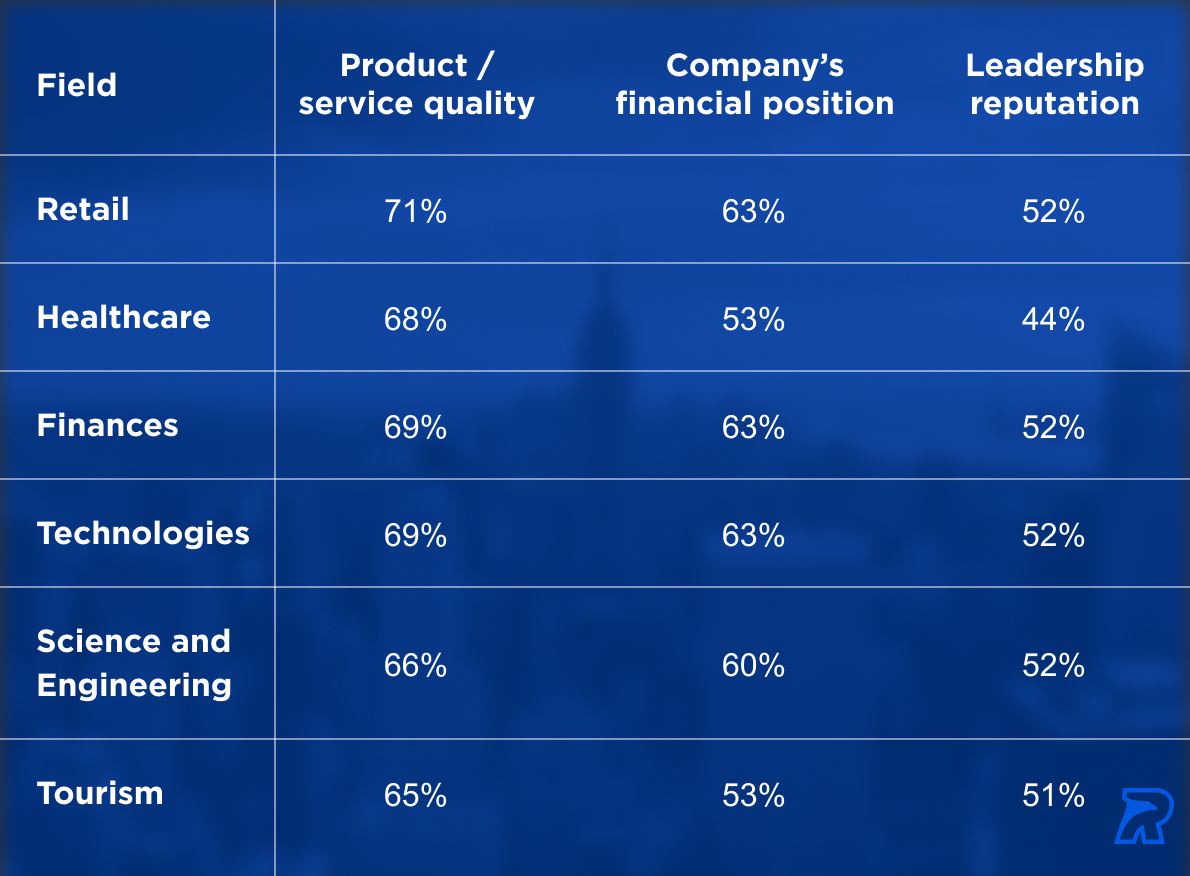 The leader's reputation amplifies the image of the company. It can help when it comes to the crunch, as the company chief can "share" reputation capital and reassure the audience. 
Perceptions of a Chief Executive with a Positive or Negative Reputation 
The difficulty of studying CEO reputation lies in the fact that we deal with a reputation within a bigger one. Brand and leader images complement each other and it's hard to say what influences these features the most. That is why it's better to consider the reputation of the leader separately from the employees' perspective. 
According to Weber Shandwick experts, good or bad reputations impose predetermined traits on the image of a leader. Let's see which ones.
 Traits attributed to leaders with a good or bad reputation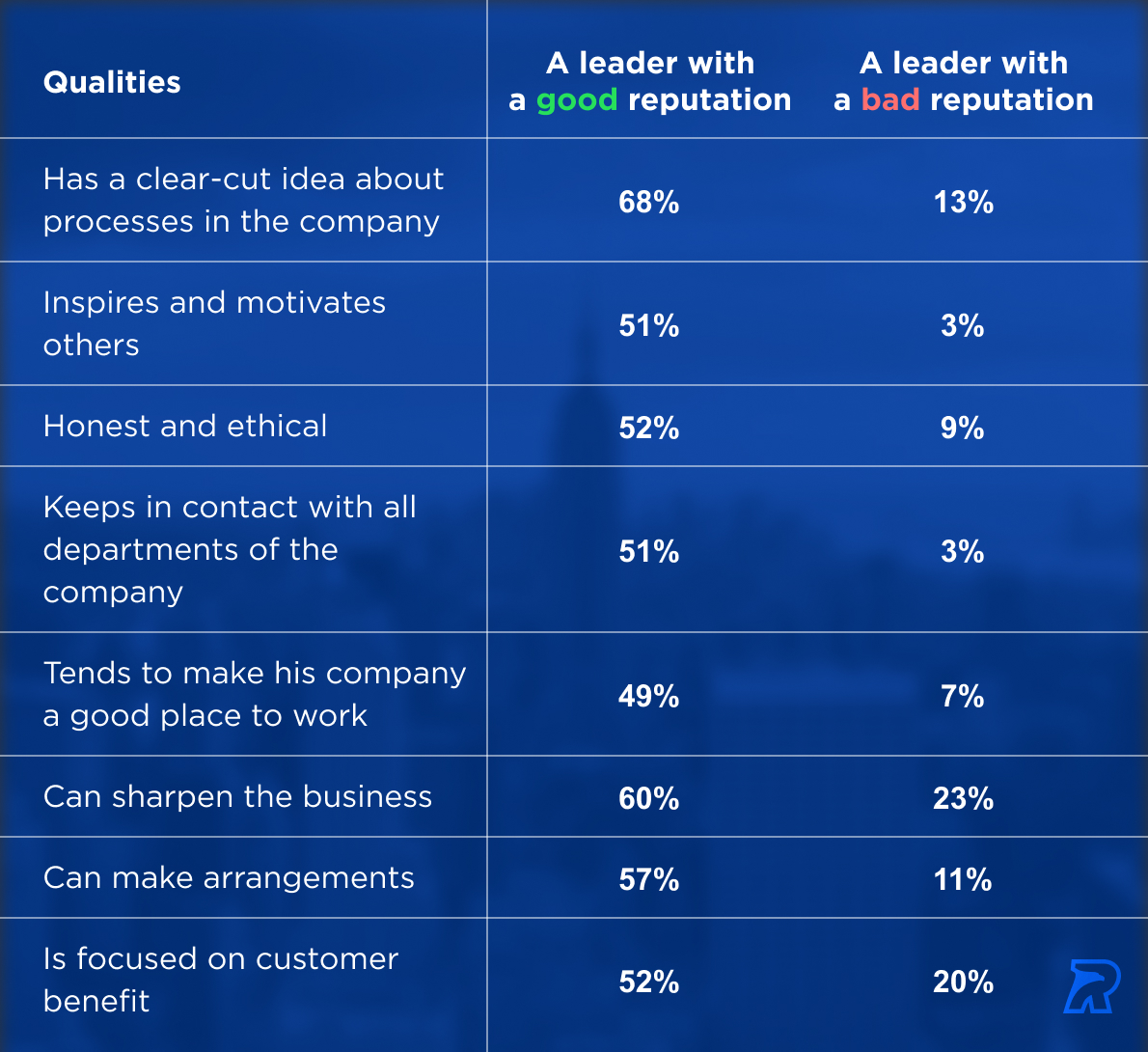 The leaders with good CEO reputation management note a positive influence on their image. European and American businessmen took part in the interviews. 
— 87% agreed that recruitment of investors has become easier. As a rule, potential partners type into Google search the name of the chief executive and look at the information that the search engine provides. 
— 83% of people polled noted the favorable attitude of media and bloggers towards them.
— 83% said that crisis management is easier for them than for their colleagues with a bad reputation.
— A good business reputation of 70% of surveyed people helps them attract and retain employees.
It is obvious that a strong reputation gives a leader positive qualities. CEO reputation management improves and facilitates interaction with investors and influences the HR brand of the company. 
Executive Reputation Management: Three Ways to Improve Someone's Standing
Participation in industry conferences. These events are designed to develop external relations. We are talking specifically about industry conferences, and not general meetings of business people, where everyone is invited.
Mass media participate in such events, and the internal press service distributes the abstracts of speeches. This will help get additional mentions of the leader and the company.
Participation as a media expert. This can help to improve executive reputation management. No, no one needs to ring up journalists and ask for an interview. You can use services like HARO. To get started, register as an expert and then track requests.
Of course, the chief executive does not have to do reputation management alone. Such things are done by advertising or PR services.
Be present on the company's website. It can be a quote or a short address. Regardless of the size of the company, it must have an image.
It should be acknowledged that executive reputation management is about competence and dialogue with the professional community. The key thing for a consumer is product quality, not the innovative views of the director.
Correct reputation mistakes and give a boost to the brand
It's free, confidential, and without obligation
How to Improve CEO Reputation Management 
Invest in personal branding. The business reputation of a leader is too strong not to be used for the good of the business. A regular news release with a mention of the chief executive is the first step towards building an image.
Conduct a reputation analysis. Building a business image begins with analyzing the most important mentions.
Define the media role of the manager. Some enjoy sharing news on social media, while others position themselves as industry experts. In all circumstances, it is important to be consistent and not waste resources on everything in sight.
Come up with a role for those in the leader's environment. The rule "the retinue plays the king" also applies to communications. Surely, there are experts in the top echelon of the company who have something to say. Use them to raise your business reputation.
Increase your media exposure. You don't have to give out your phone number to everyone to be accessible to the media. It is wiser to respond promptly to requests or create a separate email for this. A good option is to create an account on special services.
 Be aware of other factors that affect the company's reputation. The main aspects are quality and service. Even a big-name director will not be able to correct a situation without these.