Can Google Reviews Be Removed By Owner?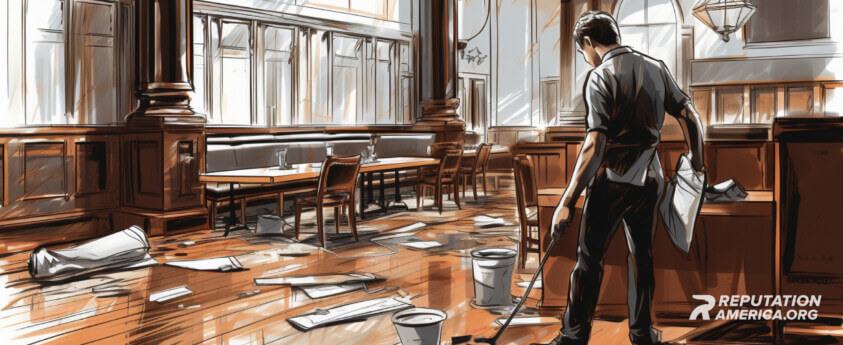 Not all Google reviews are glowing recommendations. It can be challenging for business owners to know when to delete bad reviews and how to go about it. Reputation America specializes in helping owners remove negative reviews. Here are a few times when you should delete a Google review and what to do if you can't remove one on your own.
When to Remove Negative Reviews?
Google reviews matter. An estimated 98% of consumers check online reviews, and 81% of shoppers choose Google as their primary review platform. Business owners should monitor their business pages on Google for reviews that may violate platform guidelines. Reviews that are spam, inappropriate, or have a conflict of interest should be removed. Here are a few ways owners can try to remove a review on their own:
How Can Owners Remove Google Reviews?
Businesses aren't able to delete reviews on their own Google Business Profile. They can use Google Maps or Google Search to report an inappropriate review for removal. Business owners can also flag reviews from their Business Profiles. 
How To Flag A Review On Google Maps
Navigate to Google Maps on a computer.

Search for your business by using your business name or address.

Choose your business from the search results.

On the left panel, scroll to the "Review summary" section.

Under the "average rating," click "[number of] reviews."

Scroll to the review you want to flag. Click the three-dot menu. Click the flag icon. Complete the form that opens in the window.

Click "Submit."
How to Flag a Review on Google Search
Open Google.

Find your Business Profile.

Click "Google Reviews."

Find the review you want to report. 

Click "More" and then click "Report review."

Select the type of violation you want to report. 

Fill out the screen that appears. 

Click "Submit."
How to Flag a Review on Your Google Account
Sign in to "manage your Business Profile" on Google. 

Select the review you want to report. 

Single business: Open the profile you need to manage. On the left menu, click "Reviews." 

Multiple businesses: On the left, in the menu, click Manage Reviews. Then use the drop-down menu to choose a location group. (This option is not for organization accounts.)

On the review you want to flag, click "More" and select "Flag as inappropriate." 

Fill out the screen that asks why the review is inappropriate. 
How Long to Wait for Removal?
The review process may take a few business days. If Google finds that the review violates its policies, the review is deleted within three days. Business owners that reported a review from the Google Business Profile can check the status of a flagged review with the Reviews Management Tool on their account. 
What if Google Won't Remove a Review?
If Google finds that a reported review does not violate any of its policies, it will not remove it. Here are some next-steps business owners take: 
Submit a One-Time Appeal of a Review
If you flag a review, but Google's verdict says it doesn't violate any Google policies, you can submit a one-time appeal:
In your Google Business Profile, navigate to the Reviews Management Tool.

Verify that the email address shown is the same one you use to manage your business profile.

Click "Confirm."

Select your business. 

Select the button "Check the status of a review I reported previously."

Scroll to the bottom of the page and select "Appeal eligible reviews." Select the reviews you want to appeal to. You can select up to 10 reviews. 

Click "Continue." Click "Submit an appeal."

A new tab will appear. Fill out the form and click "submit." 
Within a few days, you should receive an email with the final verdict about your appeal. If Google finds the review violates any of its policies, it will be removed within three days. If Google finds the review does not violate any policies, the review will remain live. Its status will show "escalated-check your email for updates" in the Reviews Management Tool.
In an ideal situation, business owners can report a negative review for inappropriate content. The unfortunate reality is that not all negative reviews are so easily removed. Google has thousands of flagged reviews to rule on and may not always make the call you feel is best for your business. 
Find Help from a Third Party
At Reputation America, we often explain to clients that removing a review on their own leaves the decision up to Google. Google will only remove a review that violates Google's policies. If a patron had a genuinely poor experience with your business, or if Google isn't able to detect policy violations, it will not delete it. 
This is where Reputation America steps in. We have a variety of effective legal resources and methods to help remove negative reviews. We have successfully removed thousands of Google reviews using legal action, mediation, and in-depth knowledge about Google practices.
We Help Remove Negative Reviews
You may be concerned about a negative review but haven't been able to remove it on your own. Perhaps you don't want the hassle of dealing with Google's administration. You may be worried about angering the author of the review. Reputation America deals with challenging cases where other lawyers or firms refuse to work.
We discreetly so that the authors of negative reviews do not know who initiated their removal. We remove unwanted reviews without resorting to threatening or illegal tactics. 
Reputation America aims to remove unwanted reviews from your business page permanently. Contact our team for a free consultation to see how we can help. Our company has the experience and legal expertise to help improve your business's online image.