Bad Reviews Removal Subscription Service
Pricing
Amount and complexity

Popularity and credibility of the site

Expert involvement

Other factors
Results and timeframes
Information has been removed.

From 21 to 60 days
Payment
Wire transfer

Credit Card

Zelle
---
Bad Reviews Removal Subscription Service - High Success Rate. Fast Results. Minimal Investments.
Reputation management online can become an annoying process of constant rejections and the inability to remove negative content. You go from one agency to another and after a few months, they say: there is nothing more we can do? Reputation America presents the most modern way to manage your reputation online. No more agency turnover and constant search. We are here to work with you on a long-term basis.
DIY Subscription VS Classic One-Time Project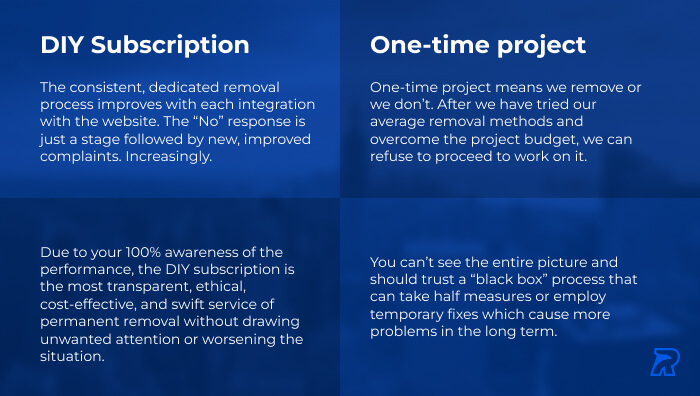 First Step
→
We deep dive into your review page and make a 360° analysis of the page content and reviews you have. Both positive and negative ones. We make both litigation and non-litigation claims for you to send to the website.
Second Step
→
Now, when you have content to claim you send emails to the websites from your company domain email address. Now the website takes time to check the claim we provided you with.
Third Step.
We Close the Cycle.
After, we know the website decision. The problem can be resolved from the first request. If we receive a rejection, we start forming new claims for you.
Benefits You Receive:
1. The Highest Success Rate Ever
Throughout the time we work on the market, we were able to build up our step-by-step approach to each review platform. But sometimes you will receive a rejection of each step of your work. The cycle approach on which DIY subscription is based allows us to advise you on each step and assist you with each rejection. Such complex work gives you the highest chance that all the reviews you want to remove will disappear forever.
2. The Least Time and Money Consuming Approach on the Market
The projects are usually resolved in 21 days, however, some projects can take months to achieve successful results. In projects where we receive payment per result, we usually estimate the possible time spent and project expenses and calculate the cost depending on it. In DIY subscription we made a system that leads to minimal time and project cost, which gives you fast results with the least expenses. You simply use our guidelines with your company domain email and increase the review removal success rate, save your company's inner system from outside integrations, and decrease review removal costs to the possible minimum.
3. No Reputation and Cybersecurity Risk
Due to your 100% awareness of the performance, the DIY subscription is the most transparent, ethical, cost-effective, and swift service of permanent removal. Reviews disappear from the page without drawing unwanted attention or worsening the situation.
Flexible and Affordable Priсing

We understand that first, you may need to build up relations with us. That's why we offer you the first month free as a trial period. We remove Project Maintenance costs, you only pay if the review is removed.
Why We Will Succeed:
Expertise: We are deep inside the policies and rules of each website. We know what works and what doesn't possible removal limits, and unspoken rules.
Experience: The exceptional dedication to content removal for 10 years - is just the tip of the iceberg - which is based on unstoppable research, neural network integration, state-of-the-art tools, and a specialized team.
Continuity: A sustained, seamless process of negotiating with the website approaches to overcome "hidden removal limits" and achieve a  more profound check-up process for the content of the review with an escalation to the senior level of the Review Team of the website.
Still not sure which way is better?
It's free, confidential, and without obligation